8 Places You Must Visit in Penang
Not sure where to visit when you are in Penang? Here comes the list that you MUST pay a visit when come to Penang.
1. Penang Hill
Penang hill, also known as Bukit Bendera or Flagstaff Hill, is 833 m (2,723 ft) above sea level and stands out prominently from the lowlands as a hilly and forested area. Well known for its cool and fresh climate from the tropical heat of George Town.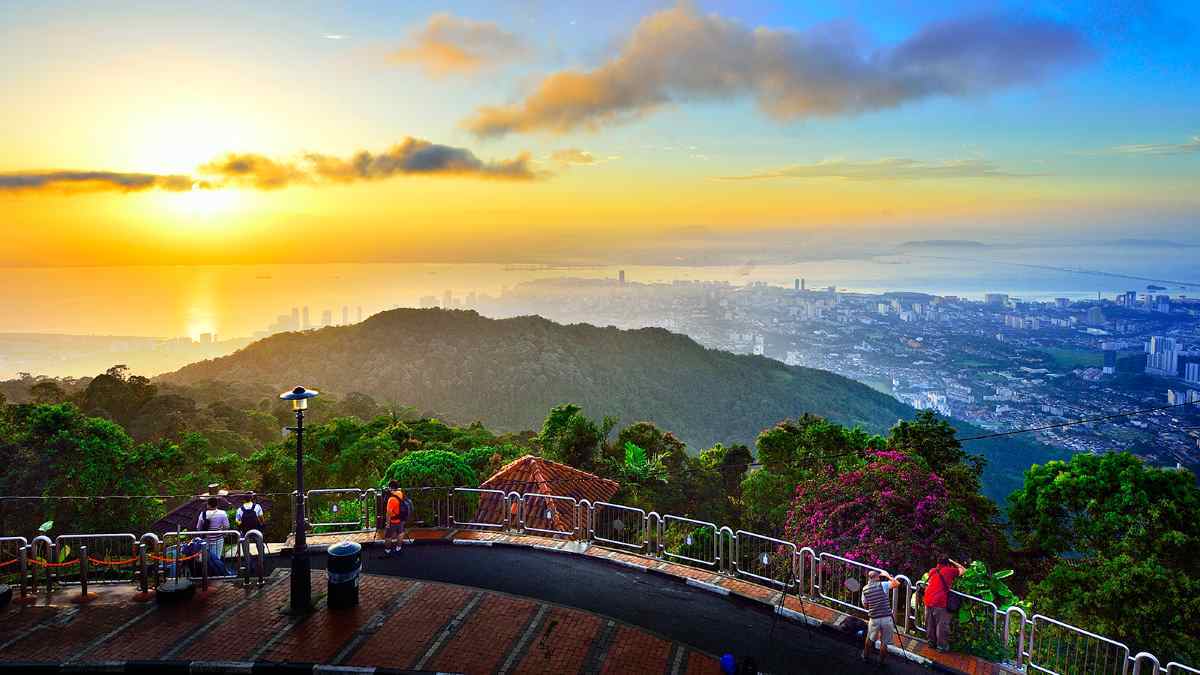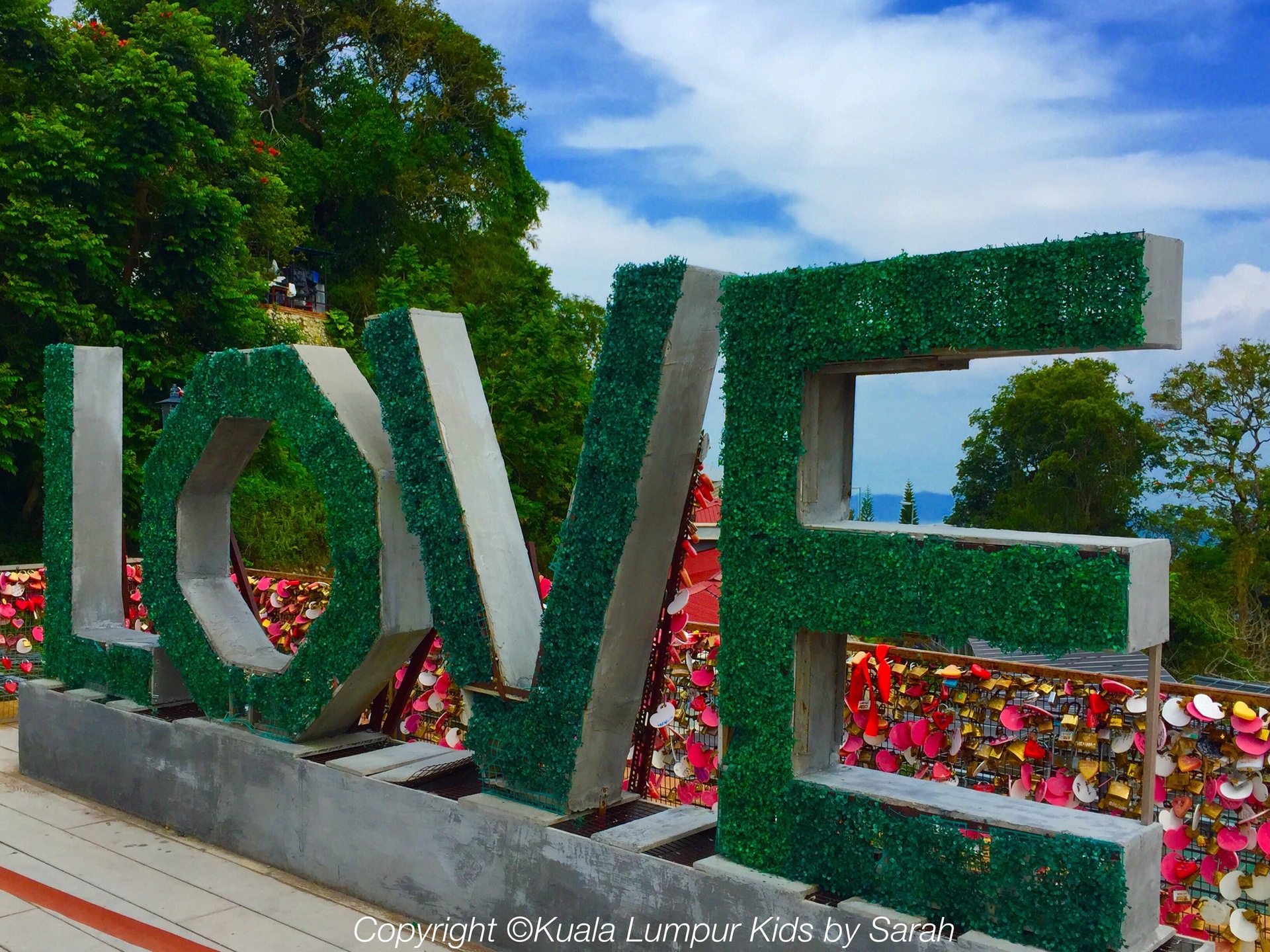 To enable locals and tourists have an enjoyable tour to Penang Hill, Penang Hill Railway (since 1923) has provide the railway service with affordable price.

| | | |
| --- | --- | --- |
| Visitors with MyKad | Normal | Fast Lane |
| Adult | RM10 | RM40 |
| Children | RM5 | RM20 |
| Foreign Visitors | | |
| Adult | RM30 | RM80 |
| Children | RM15 | RM40 |
Daily train operating hour - 6.30am - 11.00pm (Last train from top station)
Daily ticketing counter operating hour - 6.30am - 10.30pm

More info/ purchase online ticket: Penang Hill
2. Kek Lok Si Temple
Built since the year 1891, Kek Lok Si Temple is one of the largest and finest temples complexes in Southeast Asia. With millions of magnificent images of Buddha and hundreds of beautiful meaningful carvings, sculptures and murals in the interior and exterior of the temple halls, pagodas and archways, Kek Lok Si Temple is not just a center for Chinese culture and Buddha teaching, but also unique heritage treasures.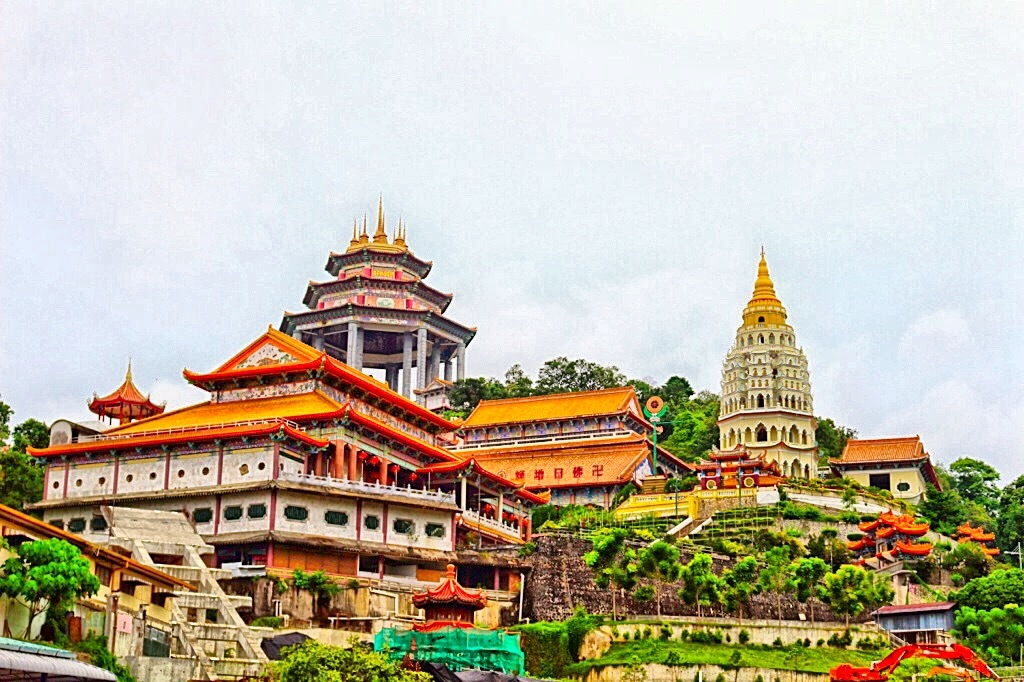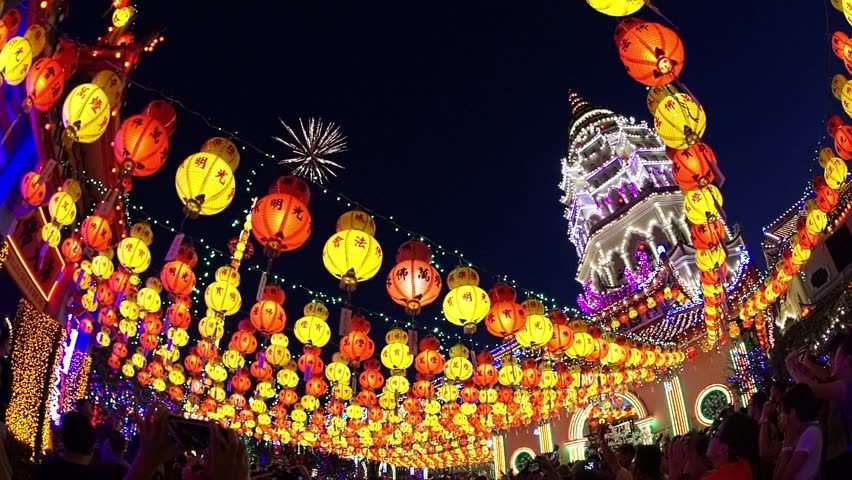 More info: Kek Lok Si Temple

Contact number: 04-8283317

Operating hours: 9am-6pm (different operating hours in Chinese New Year)
3. Street Art in Georgetown
Penang Street Art, and in particular George Town Street Art, has in the past few years enhanced its position as the street art capital of the country. This began with Marking George Town in 2009, and this showcase has successfully brought so much crowds of people waiting to have their photo taken in front of the wall paintings.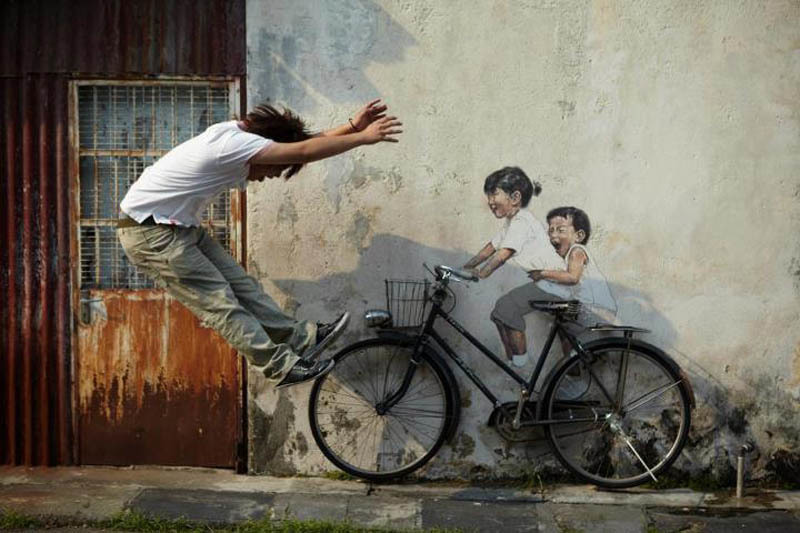 You can pick up a copy of the Penang Street Art Brochure which includes a location map, from the Tourist Information Offices on Beach Street or just behind Fort Cornwallis. Or if you are lucky, your hotel or homestay may have some copies.

If not, you can always download a copy here: Penang StreetArt
4. Pinang Peranakan Mansion
Pinang Peranakan Mansion, the typical home of a rich Baba of a century ago is recreated to offer a glimpse of their opulent lifestyle and of their many customs and traditions. With over 1,000 pieces of antiques and collectibles of the era on display, this Baba-Nyonya museum is also housed in one of Penang's heritage mansion of eclectic design and architecture.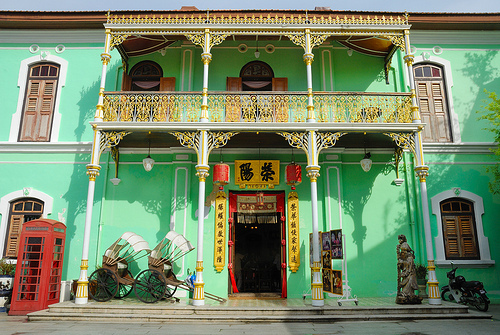 Admission Fee: Adults- RM20; Children (below 6): Free

Visiting hours: Monday- Sunday (Public Holiday) 9.30 am- 5pm

Address: 29, Church Street, 10200 Penang, Malaysia.

For inquiries and tour reservations, kindly contact: +604-2642929

More info: Pinang Peranakan Mansion


5. Escape Park Penang
The Escape Adventureplay Theme Park, the first theme park in Penang. Escape is different from any other theme park. It is a re-visioning and departure from conventional ideas of roller-coaster rides & sugar-coated fantasies. Escape draws from childhood past to capture dreams and traditional values and address some of the problems of our current age by encouraging physical wellness and reconnection with nature. In addition, Escape Waterplay was also opened to public at September 2017.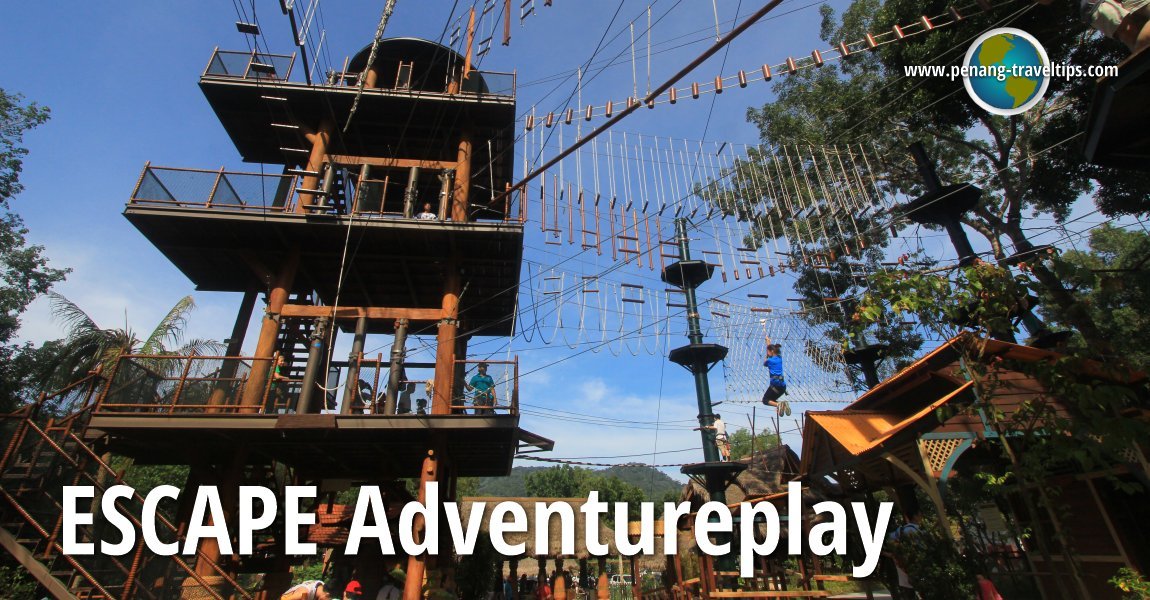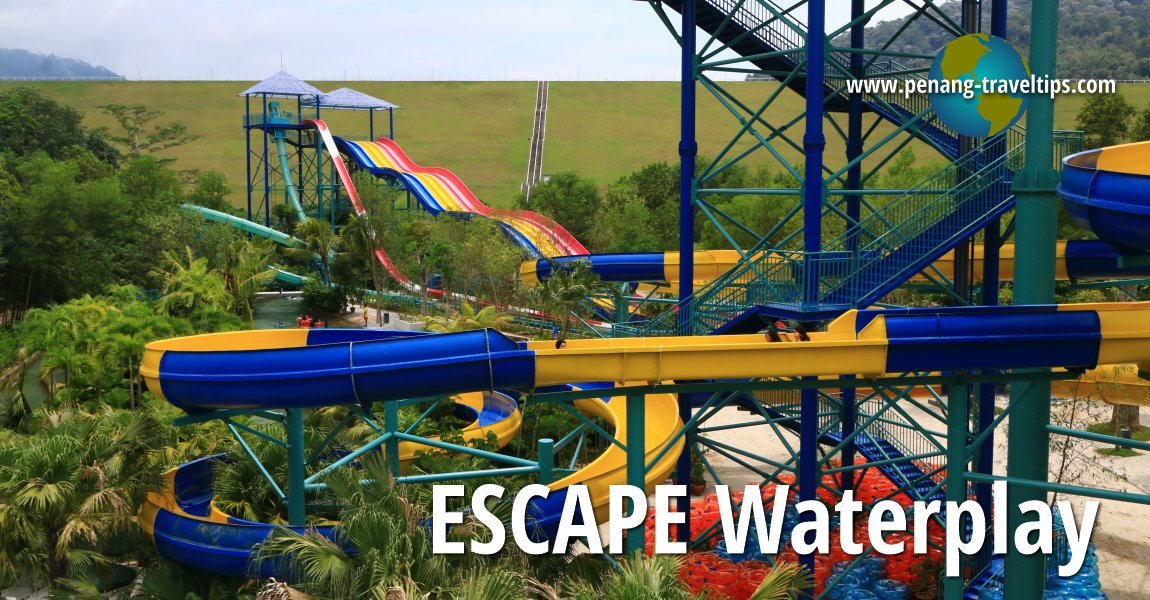 Operation hours: Tuesday- Sunday 10am-6pm (CLOSE on Monday for maintenance.)

More info & ticket prices: EscapePark Penang

Address: 828 Jalan Teluk Bahang , 11050 Penang, Malaysia

Contact number: +60 4 8811 106
6. Batu Ferringhi
Batu Ferringhi, the most popular beach destination for tourists and locals in the Penang island. The sandy beaches are the main attraction of Batu Ferringhi. Tourists can access a number of beach sports and water sports in this region.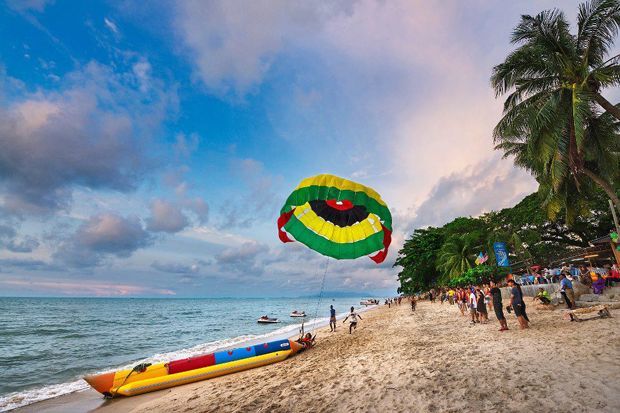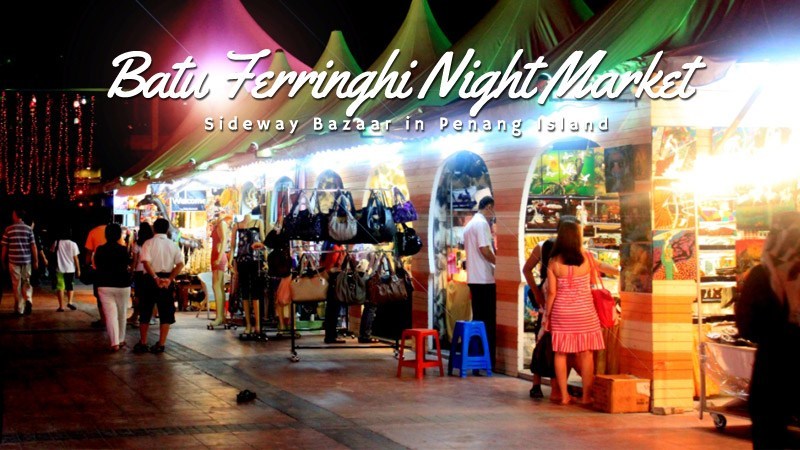 Jalan Batu Ferringhi comes alive every night as vendors set up stalls along this stretch offering some handmade local souvenirs and local artwork. Their stalls normally start from Shangri-La's Rasa Sayang Resort & Spa to Shangri-La's Golden Sands Resort and from 7pm to late of night.
7. Gurney Drive (Gurney Plaza, Gurney Paragon)
Gurney Drive also known as "Persiaran Gurney" in Malay offers delightful street and high- end cuisines. Food courts and open-air hawker stalls pepper the seaside stretch, offering local favourites such as Penang Laksa, Bak Kuk Teh (a herbal stew of pork ribs and meat), Oh Chien (fried oyster omelette), grilled squid, and nasi lemak make for mouth-watering meals. For Malay friends, worry not as Gurney Drive Food Court also offer halal foods. After dinner, you may choose go shopping at Gurney Plaza or Gurney Paragon mall which is just situated nearby. It is just walking distance from Gurney Drive Food court.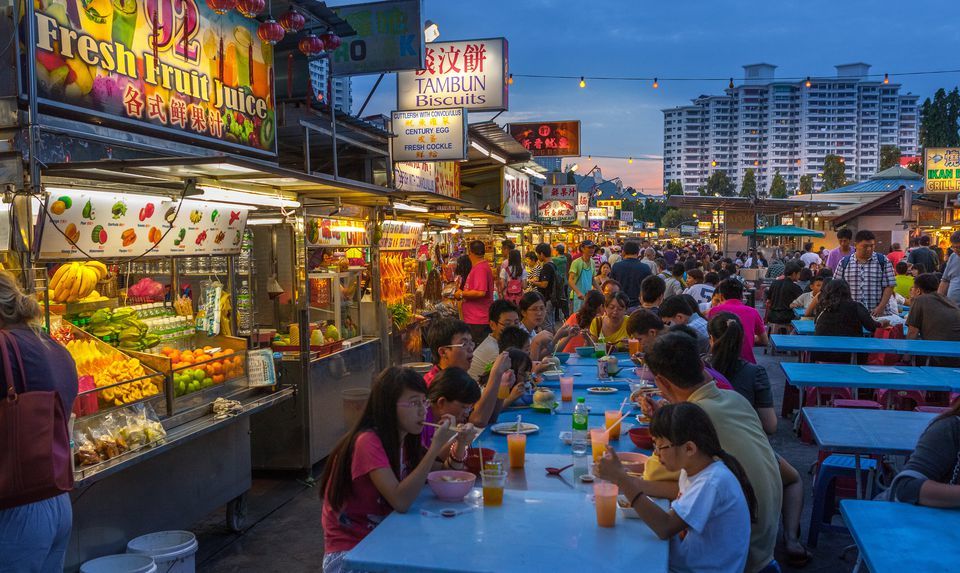 8. Snake Temple
Penang Snake Temple, also known as the Temple of Azura Cloud was built in 1850 and is dedicated to a Buddhist priest by the name of Choo Sor Kong. The temple is famous as it was once a refuge for the venomous pit vipers that lived in the surrounding hills. Yet, with the surrounding area of the temple all built up, there are just a few snakes in the temple and in the trees at the back. To replace the temple snakes, they now have a snake farm with over 50 different species on display and of course a chance to have your photo taken with a variety of snakes.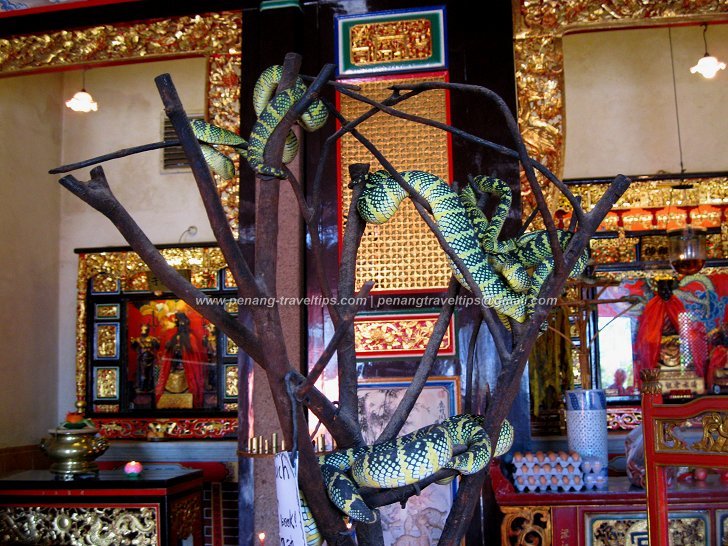 Opening Hours: Snake Temple – Open daily, 6am- 7pm. (Free Admission)
Snake Farm - Open daily, 9.30am – 6pm. (Adults- RM5; Children- RM3)

Need a place to rest? Click below image to check out our available homestays in Penang!