The latest travel trend in 2018 - Glamping
Still thinking where to travel during weekend? Wish to escape from the busy hectic life? Why not give yourselves a chance to experience glamping?
Glamping — the latest travel trend in 2018, where stunning nature meets modern luxury. Travel trends have started to change. Travelers no longer want a generic, one-size-fits-all vacation. They want to explore on their terms and immerse themselves in local culture and not only witness nature but to live in it.
Let's start to explore the Glamping site that available in Malaysia.

Caravan Serai which located in Pahang is one of the leading glamping sites in all of Asia. It is just fifteen minutes drive from Bentong town and 45 minutes drive from Kuala Lumpur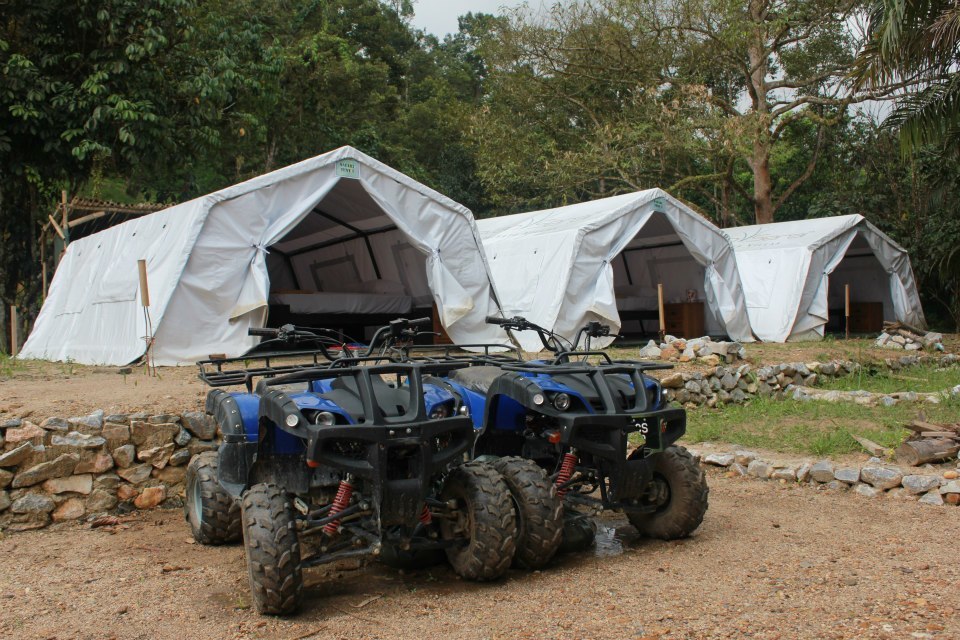 Photo Source
There are 2 types of accommodation here:

Deluxe Safari Tent: Equipped with a comfortable Queen-sized bed, air-conditioning, basic furniture, air-conditioned/ standing fan and an attached bathroom which will be an eye opener for those first visits. (From RM189 per night)​
Caravan Suite: Equipped with a king size bed with attached Living Room and bathroom with water heater. Facing nature and harmoniously blend with the latest modern comforts and moderns tropical design. (From RM341 per night)


Do not worry about food here because they have a restaurant which serves delicious Malaysian dishes as well as international dishes.
Address: Lot 3159 & Lot 3160, 12 3/4 Mile Jalan Tras, 28700 Bentong, Pahang.
Contact Number: 03-7972 3655
Tanah Aina Fahad is a resort deep in the jungle near the famous waterfalls of Lata Jarum. It is a good place to relax and enjoy the lush green forests, waterfalls and the rivers. Nature lovers will find a paradise here as there is so much to see and do. It is just 2 and 1/2 hours from Kuala Lumpur by road, so you can enjoy a great scenery from the forests and the mountains.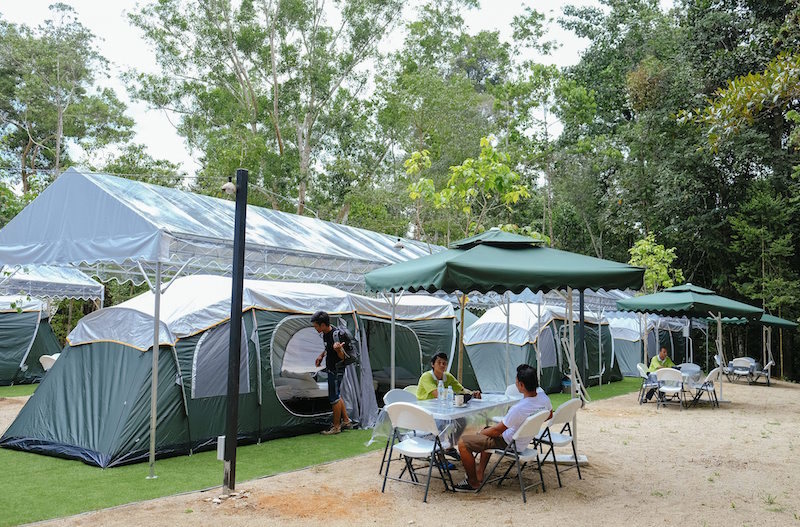 Photo Source
​There are 5 types of accommodation you can choose here:
Single Tent (From RM240 per pax)​Queen Tent (From RM260 per pax)
King Tent (From RM310 per pax)
Terrance rooms (Ambra, Belimbing, Ciku) (From RM260 per pax)
Terrance room (Durian) (From RM260 per pax)
* The price rate shown is price for package which include 4 buffet meals per day and complimentary guided trekking.
* Rates are subject to change.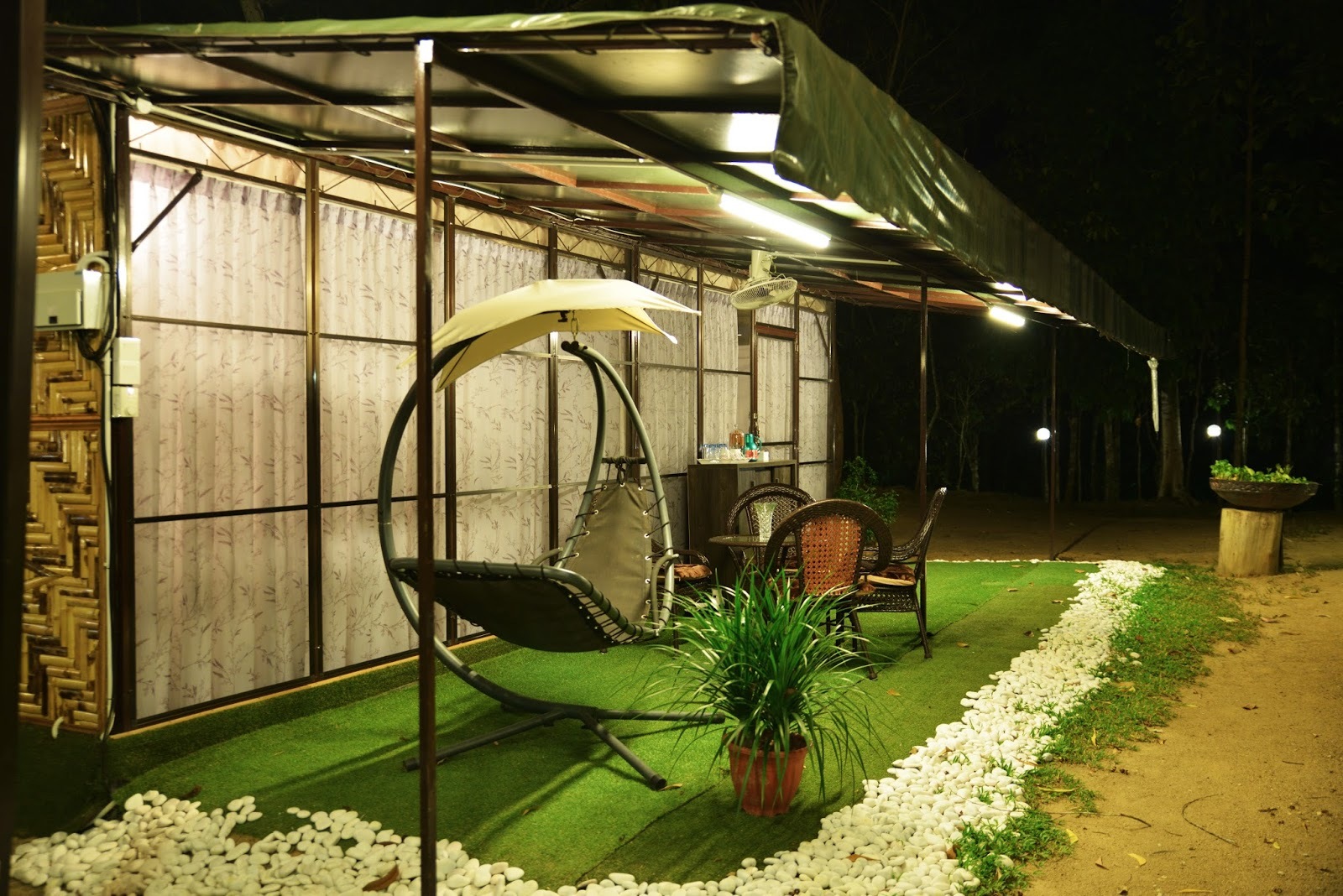 Photo Source​
There is package for 3days 2nights and 2days 1night which include buffet meals that offered by this clamping resort. Furthermore, there are some interesting outdoor activities here such as guided trekking, giant board games, real jungle paintball, kitchen master and team building.
Address: Lot 1053, Mukim Ulu Dong, Raub, Pahang.
Contact Number: 016- 6090493 Ms. Juliet, 016-2159252 Ms. Hannah (9 a.m. to 6 p.m. daily)
The Sticks Eco Resort is located in Selangor which is just an hour drive from the city. Nonetheless, if you're not careful, you might just "get lost, naturally" as mentioned in the resort's tagline.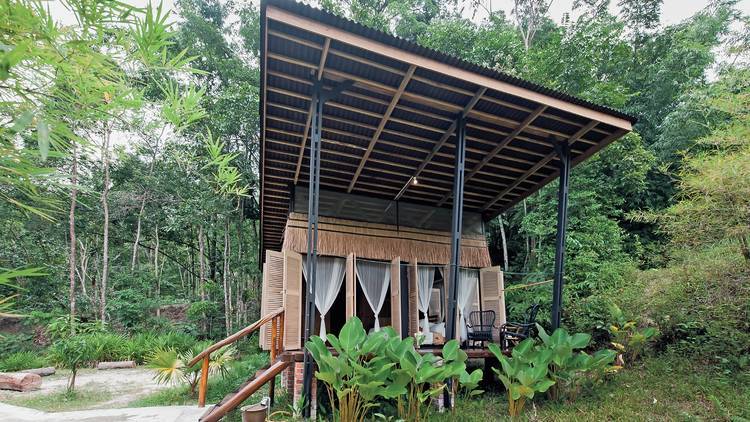 ​Photo Source
There are few types of accommodation that are provided here:
Opera House (From RM226 per person per night (inclusive of Half Board Meals)​
The Nest (From RM246 per person per night (inclusive of Half Board Meals)
Serengeti Tent (From RM226 per person per night (inclusive of Half Board Meals)
Riverside Tendok (From RM266 per person per night (inclusive of Half Board Meals)
Bamboo House (From RM241 per person per night (inclusive of Half Board Meals)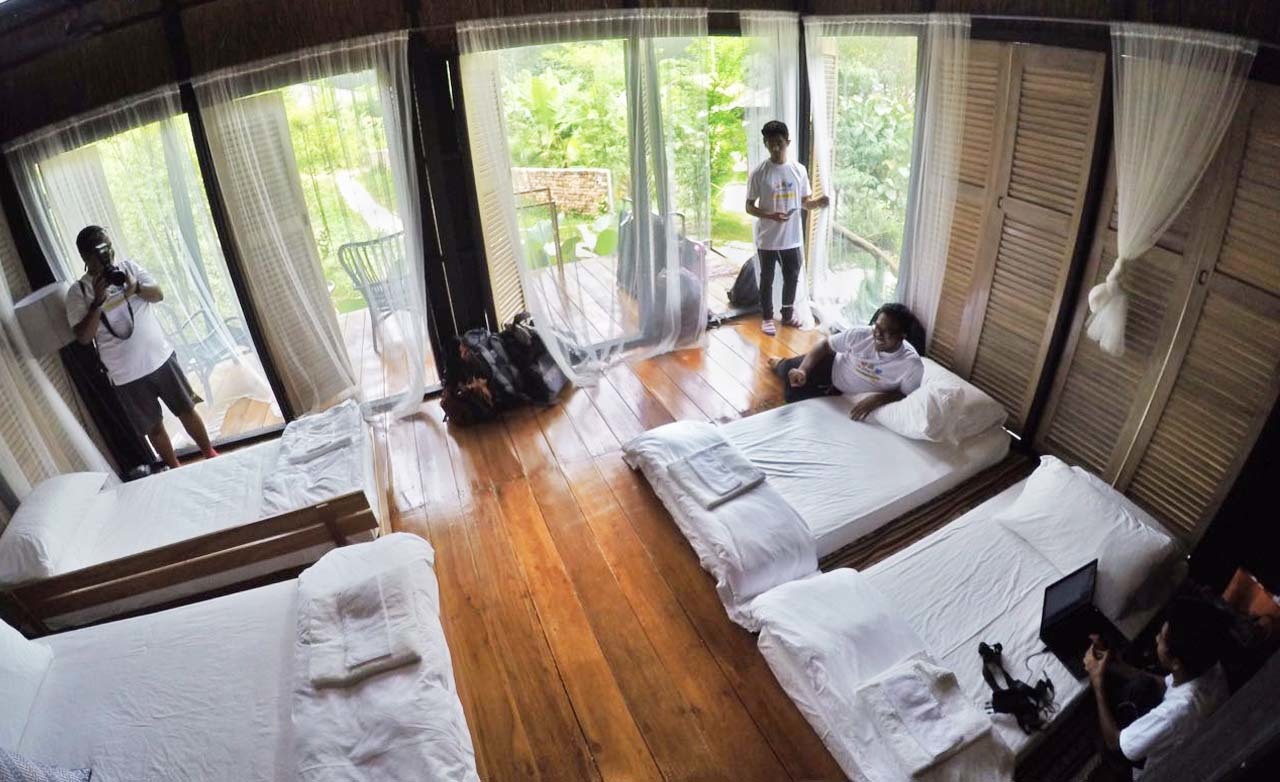 Photo Source
This modest resort is what you imagine a glamping holiday to be – charming accommodation in the heart of nature, peace and quiet, jungle trekking and other outdoor adventures such as white water rafting and paragliding.
Address: Lot 213 Jalan KKB - Fraser's Hill, 44000 Kuala Kubu Baru, Selangor, Malaysia.
Tadom Hill Resorts boasts almost 40 acres of limestone hills, lakes and trees. Besides exciting features and activities that offered at Tadom Hill Resort, this place is also perfect for those who want to escape from the hustle and bustle of city life and unwind. It is just a hop, skip and jump from Kuala Lumpur City Center, 12 minutes away from Kuala Lumpur International Airport, and 45 minutes away from Kuala Lumpur.
All types of accommodation here are built by Bamboo, the world's most sustainable building material. Below are some accommodations that offered by Tadom:
Bamboo Hunt (From RM75 per pax)​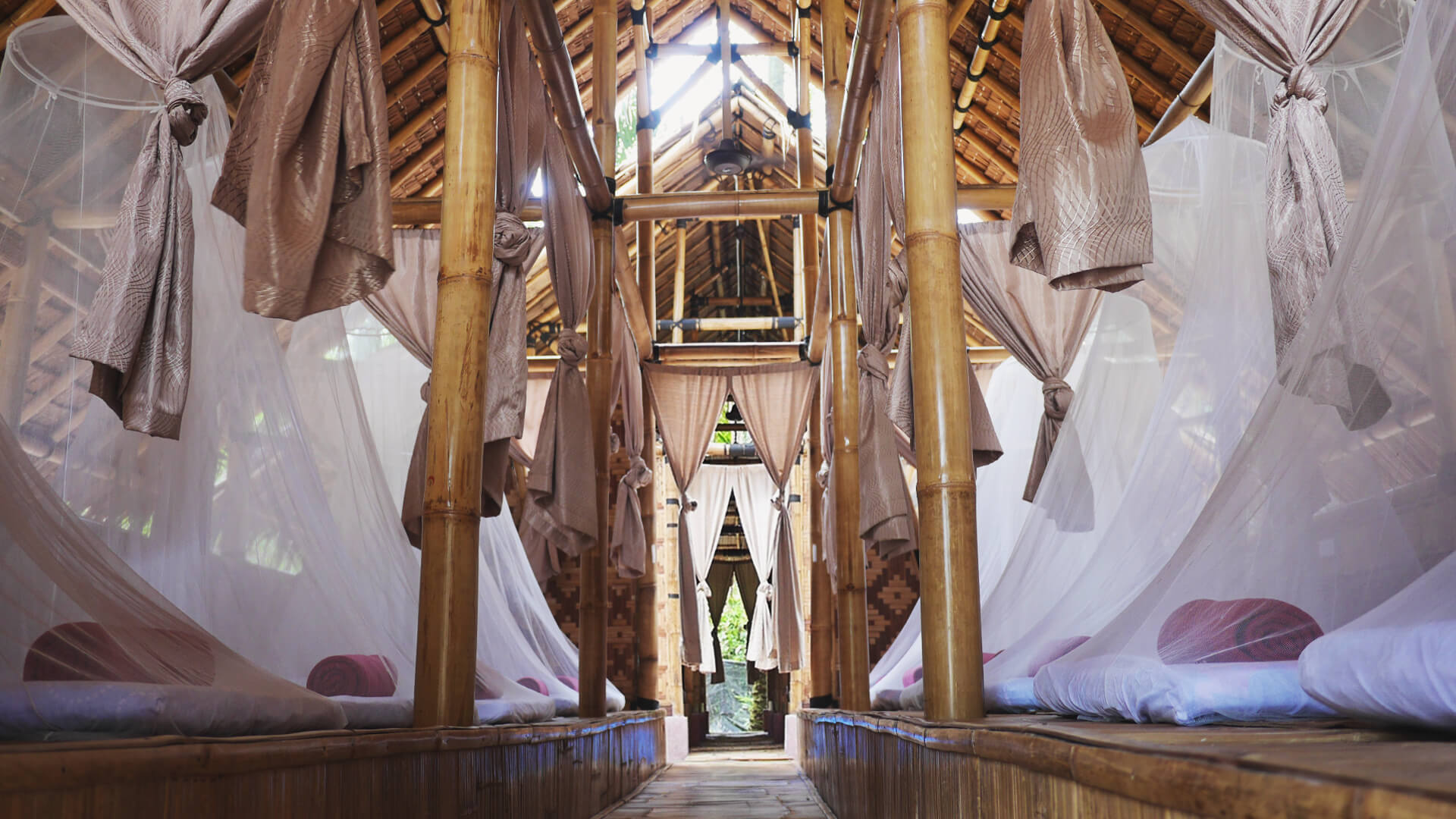 ​Photo Source
Hammock Spheres (From RM65 per pax)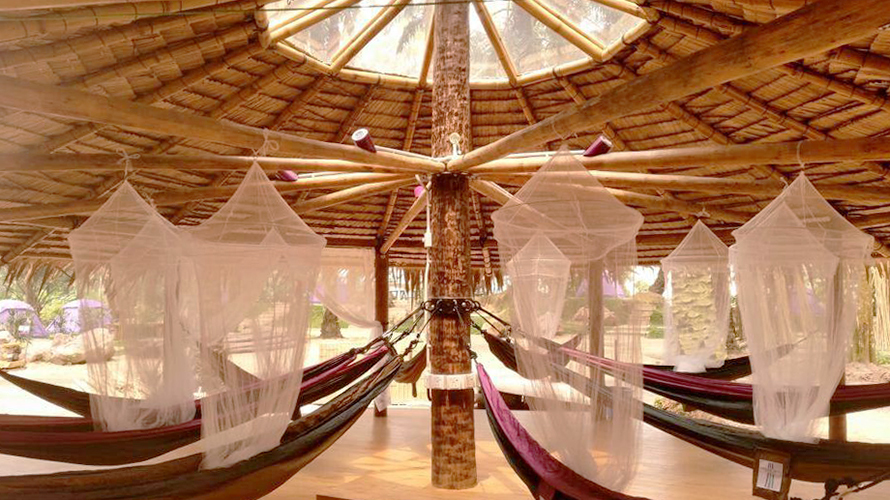 ​Photo Source
Astana Ninik (From RM 200 per unit for 2 pax)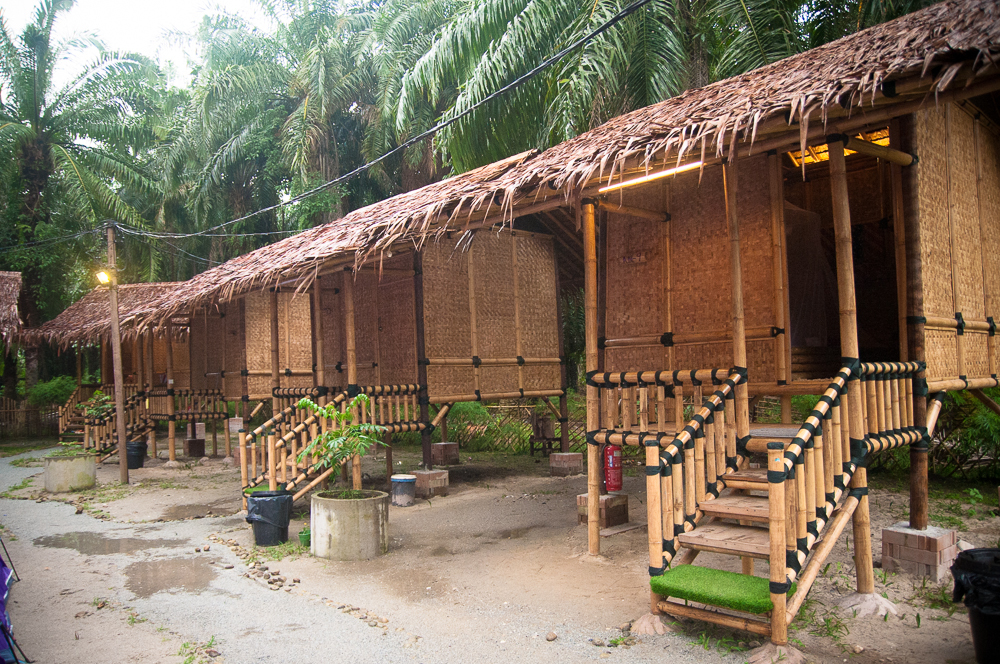 Photo Source
Address: Bukit Tadom, Kampung Labohan Dagang, 42700 Banting, Selangor Darul Ehsan, Malaysia.
What is your first thought when talking about Pulau Perhentian? Beach? Sea? Diving? What if we tell you that you can have a glamping experience here?
Crocodile Rock Villas are situated on a gentle slope overlooking the sea on the west side of the smaller of the two Perhentian Islands - Pulau Perhentian Kecil - where it is quiet, untouched and back to nature.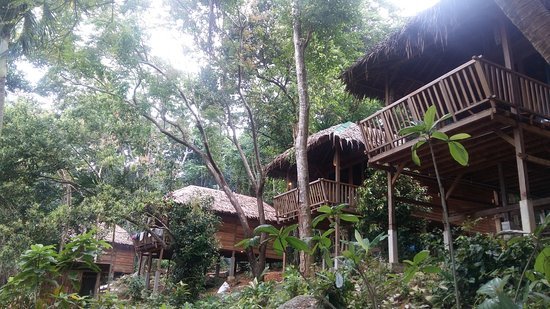 ​Photo Source

The Villas were created by Erica and Atord Hamdan, an English/ Malaysian couple who originally met on the Perhentian Islands. They decided to return to their beautiful island paradise to create a simple but comfortable retreat nestled between the jungle and the sea for others to enjoy too.
The Villas consist of 3 types of accommodation which are:
Jungle Tents (From RM250 per night)​
Seaview Villas (From RM250 per night)
Grand Seaview Villas (From RM250 per night)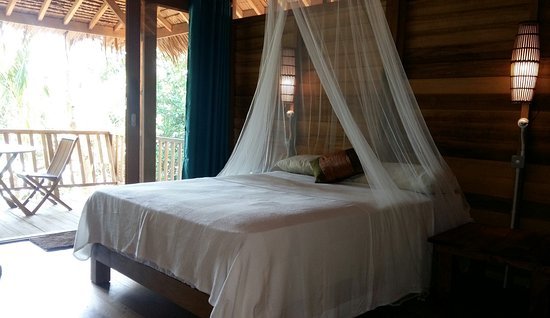 ​Photo Source
​Address: Pulau Perhentian Kecil, Kuala Besut, 22300 Terengganu, Malaysia.
As Malaysians, we believe everyone know about Mount Kinabalu. But do you know that up on the mountain, there is a triangular Mt. Kinabalu Holiday Camp accommodation that rests stilted above the marshes?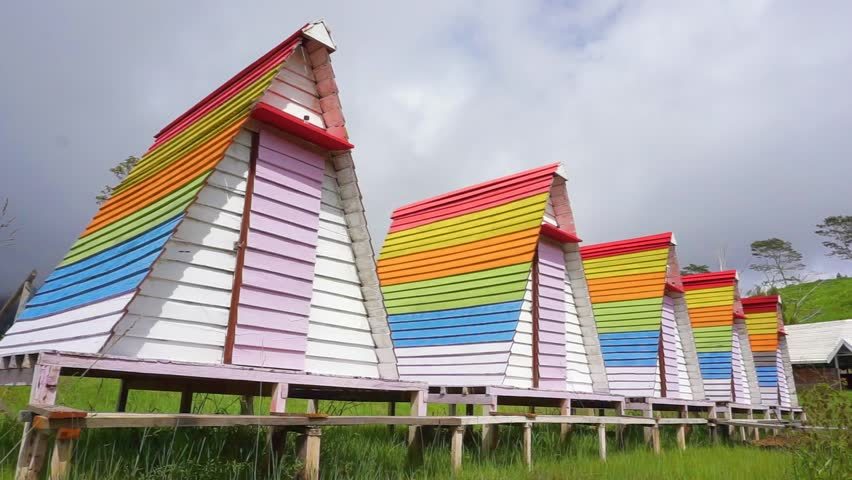 Photo Source
If you are hoping to explore the Kinabalu National Park, Mt. Kinabalu Holiday Camp will definitely be your choice to ensure you get a great night's sleep. The rooms are elegantly furnished and equipped with the needed facilities.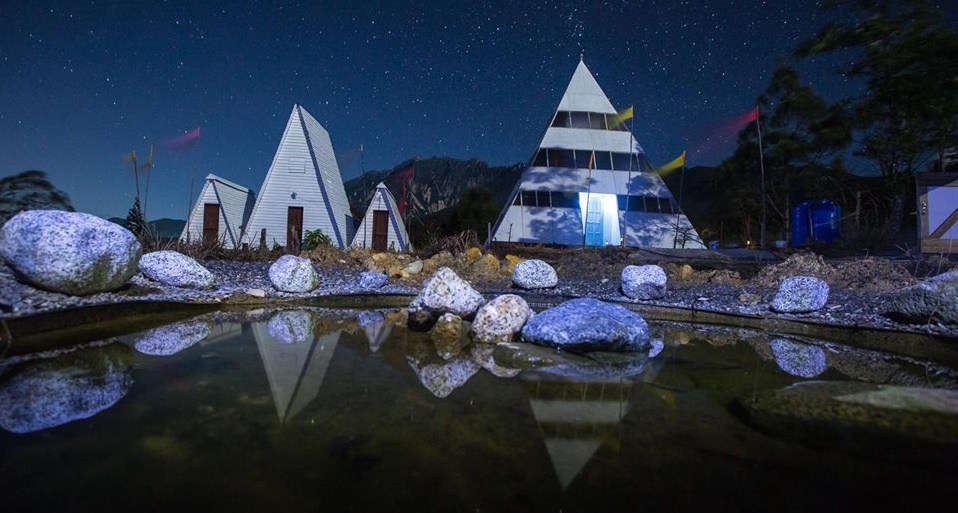 Photo Source
Address: Mamut, KM 8, Batu 2, Ranau, Sabah, Malaysia.
Tanjung Inn in Cherating that has been operating for nearly 20 years is a great getaway for anyone in need of some peace and its lush environment. Tanjung Inn offers a broad range of accommodation type for guests to choose. Not to forget, for glampers, the new completed Tanjung Tents are simple and cosy.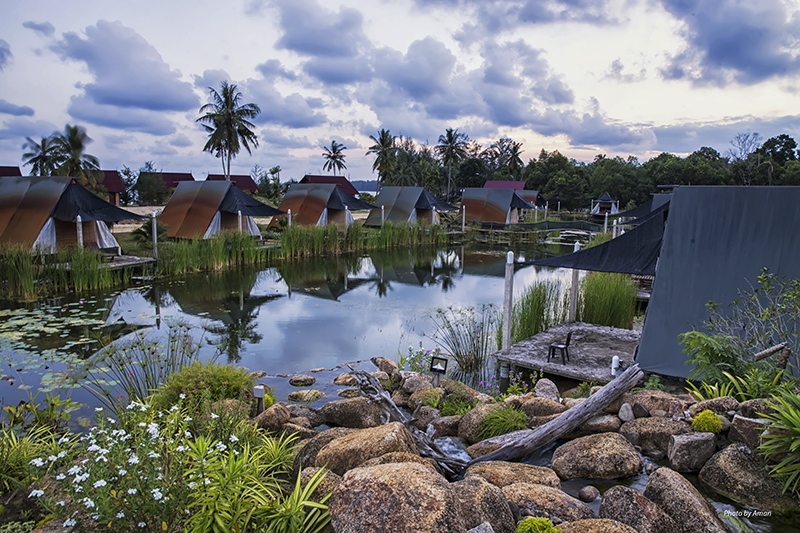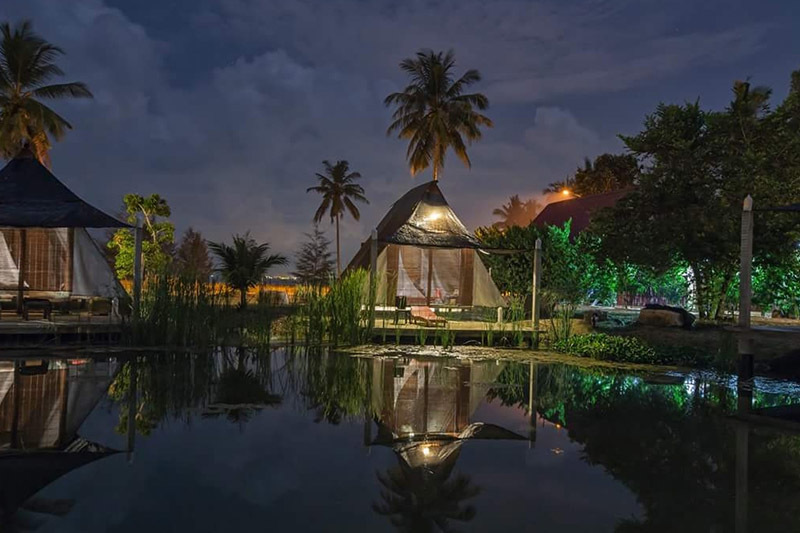 Photo Source
Price rate: From RM70/ night without breakfast.

​Don't worry that you will be bored there since you can make arrangements with the local tour operator if you are interested in a river cruise, mangrove exploration and firefly watch. Plenty of water sports activities are also available here.
Address: Jalan Cherating Lama, Kampung Cherating, 26080 Balok, Pahang
Contact Number: 09- 5819081/ 010- 382 9781
Chengal Hill Retreat, located on a 5-acre orchard in Janda Baik, around an hour drive from the heat and hectic buzz of Kuala Lumpur.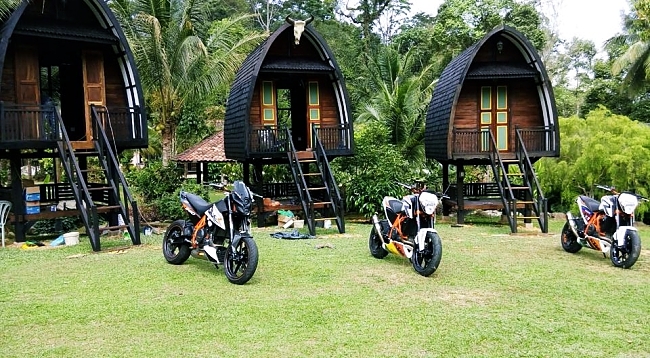 Photo Source
Stay in one of the tents or enjoy a more stylish stay in one of the apache chalets. You can cool off in the stream beside the accommodation and take advantage of the numerous activities offered in the area such as ATV biking, cycling and jungle trekking. It's a good place to introduce yourself to glamping.
Rate: - Glamping RM350 / 2 pax; - Camping (normal tent) RM100 / 2 pax
Address: Lot 8537 Kuala Lurah, Kampung Janda Baik, Pahang, Malaysia
Contact Number: 017- 2015118 Nik Azura (Text and WhatsApp ONLY)