8 Kelantan Foods Recommended by Locals.
Kelantan, located in the north-east of Peninsular Malaysia, is recognized as the "Land of Lightning", which also means an agrarian state with green paddy fields, rustic fishing villages and casuarina-lined beaches.
Due to Kelantan's relative isolation and largely rural lifestyle, the culture of Kelantanese differs somewhat from Malay culture in the rest of the peninsula. This is reflected in the arts, customs, dialects and cuisine. We have listed out Kelantanese one-of-a-kind, yet mouth watering foods below.
1. Nasi Tumpang
Nasi tumpang, is one of the popular rice dishes that origin from Kelantan. The rice with different layer of dishes wrapped in a cone shape with banana leaf. Kelantanese often calls it as Nasi Tupe. It is packed tightly and consisted of an omelette, beef or fish floss, shrimp or fish local curry, sweet sambal gravy and cucumbers. There are 2 ways to eat nasi tumpang which are use a spoon and eat it layer by layer or crumble and mix it all to a heap.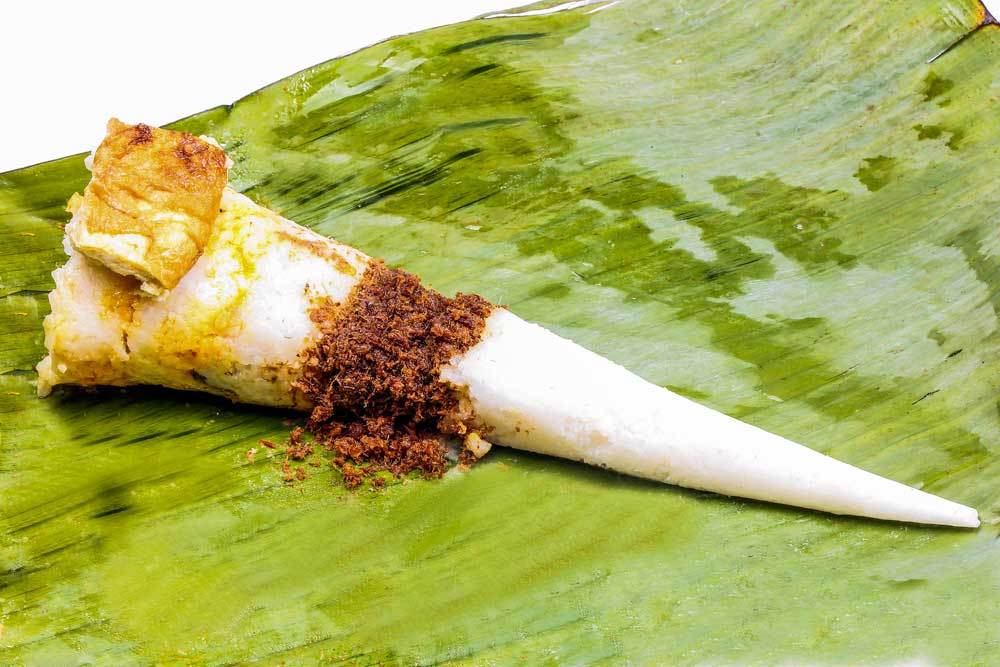 You can now find Nasi Tumpang at one of the famous restaurants in Kota Bharu, the Kedai Kopi White House which located in town center.
Address: 1329-L, Jalan Sultanah Zainab, 15050, Kota Bharu, Kelantan (Google Maps)
Operation Hours: Everyday (8am- 1pm), (9pm- 1am)
2. Roti Titab
Roti Titab is a must when you travel to Kelantan. Its looks simple with the basic ingredients such as bread, butter, kaya and egg. Yet, travellers and even locals are craving for it and will always come back for more. Roti Titab had been patented by the owner of Kopitiam Kita to avoid any other stalls who try to sell the same dish and ensure travellers are able to enjoy the original taste of Roti Titab.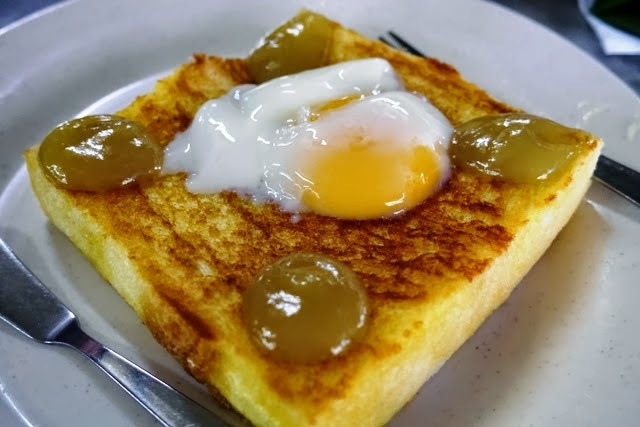 You can ONLY find Roti Titab at Kopitiam Kita.
Address: Jalan Sri Cemerlang, Taman Desa Jasa, 15400 Kota Bharu, Kelantan (Google Maps)
Operation Hours: Everyday (6am- 2pm)


3. Nasi Kak Wok
If you ask a Kelantanese what is nasi Kak Wok the locals will sure talk about the crispy, tender and served hot fried chicken that been cut into small pieces with gravy curry sauce. The late Kak Wok, real name Mek Wok Bt Hassan was the person who created this dish, and she passed down the recipe from generation to generation until now.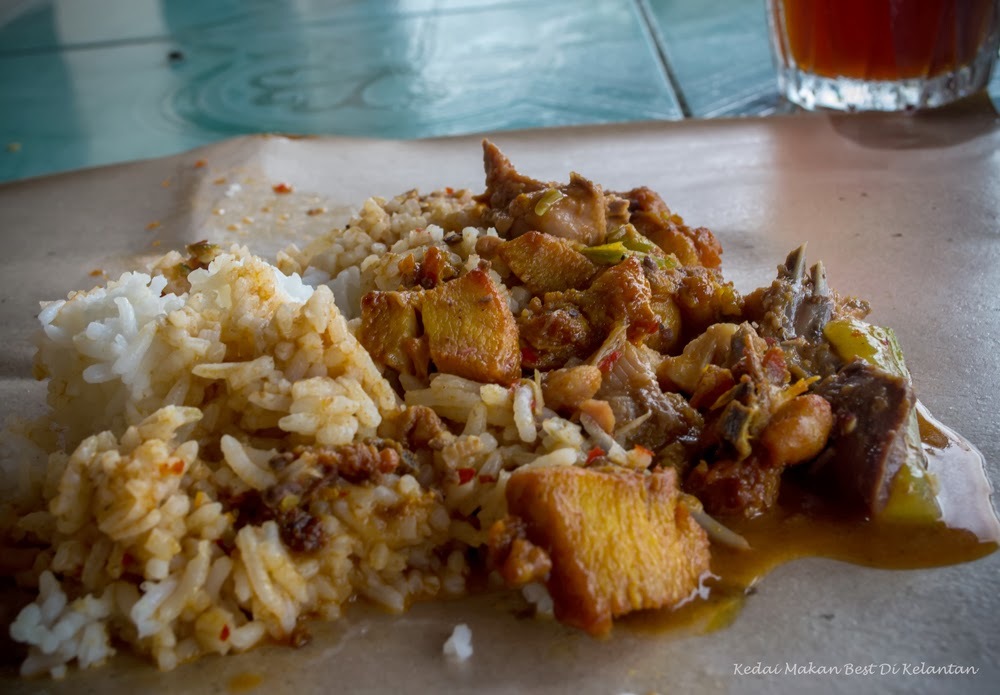 Find Nasi Kak Wok (Original) at:
Address: Jalan Masjid Lundang, 15150 Kota Bharu, Kelantan. (Google Maps)
Operation Hours: Sunday- Friday (7.30am- 2.30pm), Close on Saturday.
There are only six stalls in Kelantan which serve the original recipe of Nasi Kak Wok. They are located at Jalan Telipot, Jalan Sultan Yahya Petra, Bandar Baru Kubang Kerian, Pasir Hor, Bandar Satelit Pasir Tumboh and Taman Sari.
4. Khao Jam
Khao Jam (Khao Yam) is a type of dish that evolved from Nasi Kerabu (the well- known dish in Kelantan) and influenced by Thailand cuisine. Khao Jam is similar to Nasi Kerabu except the colour of rice. It is green in colour whereas Nasi Kerabu is blue. To cook Khao Jam, they will use the combination of local rice and Thai rice. This is because Thai rice have high viscosity. Don't let the colours of the rice fool you as the dish is sure to blow your mind away!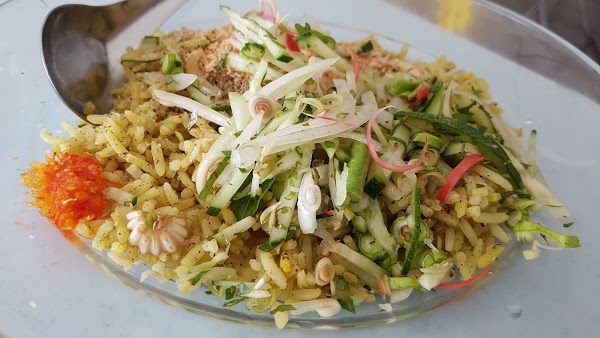 (Photo Source)
To taste delicious Khao Jam, you may visit Khao Jam Mea Thong.
Address: Jalan Terbok - Kelaboran Belukar, 16200 Tumpat, Kelantan (Google Maps)
Operation Hour: Everyday 7am-5pm


5. Laksam
Laksam Laksei (Laksang) is a type of common dish from Kelantan and Terengganu. It is made from rice flour and eaten with gravy. To prepare the dish, the dough of rice flour is covered with lid. When hardened, it will be rolled up to length and ready to be served, after they have been cut into pieces.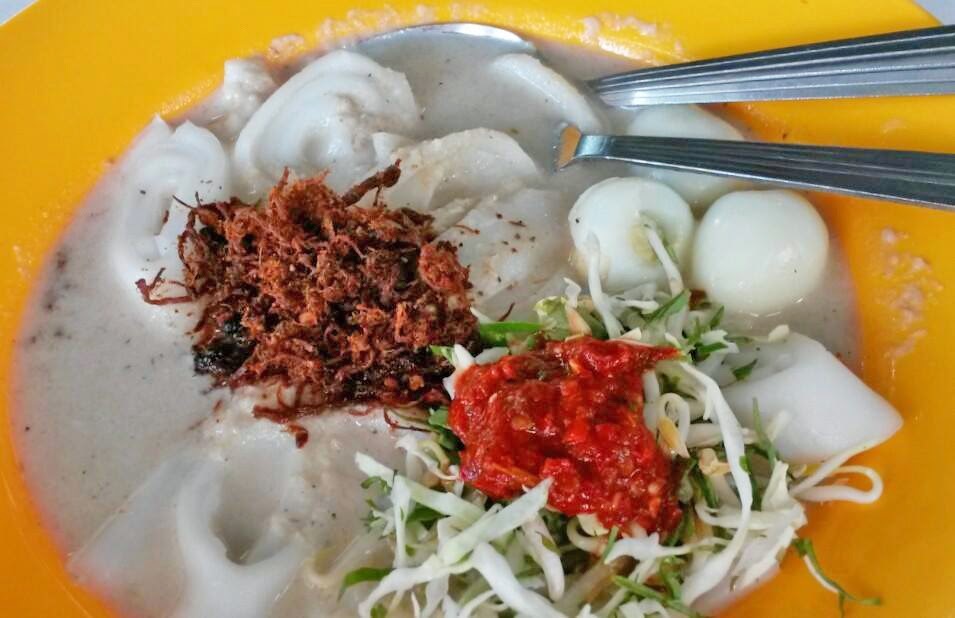 Photo Source
Wonder about the taste of laksam compare to what we usually eat, laksa? Let's try it at Restoran By-T Laksam Special.
Address: Jalan Raja Perempuan Zainab II, Kampung Belukar Lanjut Kumumin,16100 Kota Bharu, Kelantan. (Google Maps)
Operation Hours: Sunday- Friday (3pm-10.30pm), Saturday Closed.
6. Ayam Percik Kelantan
What makes Ayam Percik Kelantan different and special compared to ayam percik from the other states? It is the sauce. In Kelantan, the sauce for ayam percik is white in colour, and the taste is thicker than the average ayam percik sauce. According to some travellers, it is more appetizing if you eat ayam percik with nasi kerabu Kelantan.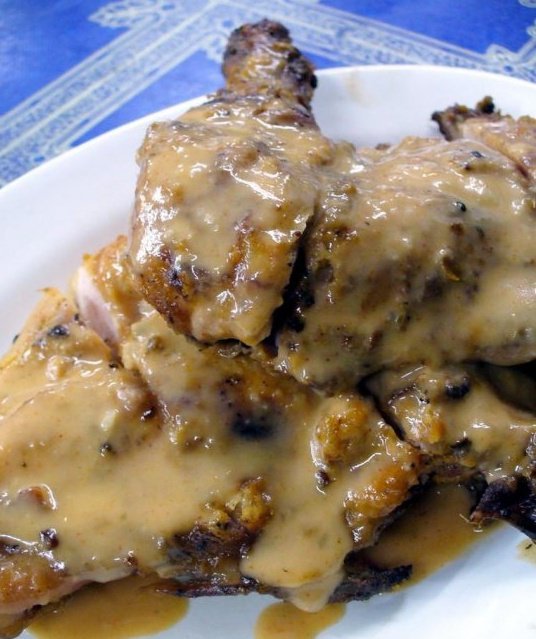 Photo Source
Therefore, let's try this combination at Yati Ayam Percik.
Address: Jalan Long Yunus, 15200 Kota Bharu, Kelantan. (Google Maps)
Operation Hours: Everyday (12pm-11.30pm)


7. Nasi Ulam
Nasi ulam is combination of Malay cuisine with Indonesia and southern Thailand. The cuisine consists of cold boiled rice that is mixed with shredded herbs such as daun kaduk (wild pepper leaf), pucuk gajus (cashew leaf shoots), onions and more. Kerisik and other spices are also added. Sometimes shredded fried fish is mixed in.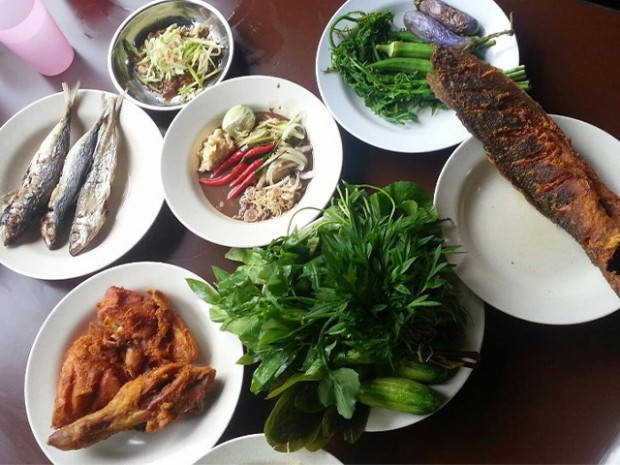 Photo Source
Where to find the BEST nasi ulam in Kelantan? Here it is, Restoran Nasi Ulam Cikgu Kg. Kraftangan.
Address: Kampung Kraftangan, Jalan Hilir Kota, Bandar Kota Bharu, 15300 Kota Bharu, Kelantan (Google Maps)
Operation Hours: Saturday- Thurs (10.30am- 5pm), Friday Closed.


8. Maggi Ketam
Maggi is staple food in every household nowadays as they are economical and easy to buy. But have you ever tried eating Maggi with crab? Sounds extra and unusual; mixing a cheap ol' Maggi with expensive crustacean - yet but have you wonder how it tastes like? In Kelantan, you can easily order this yummy delicacies everywhere.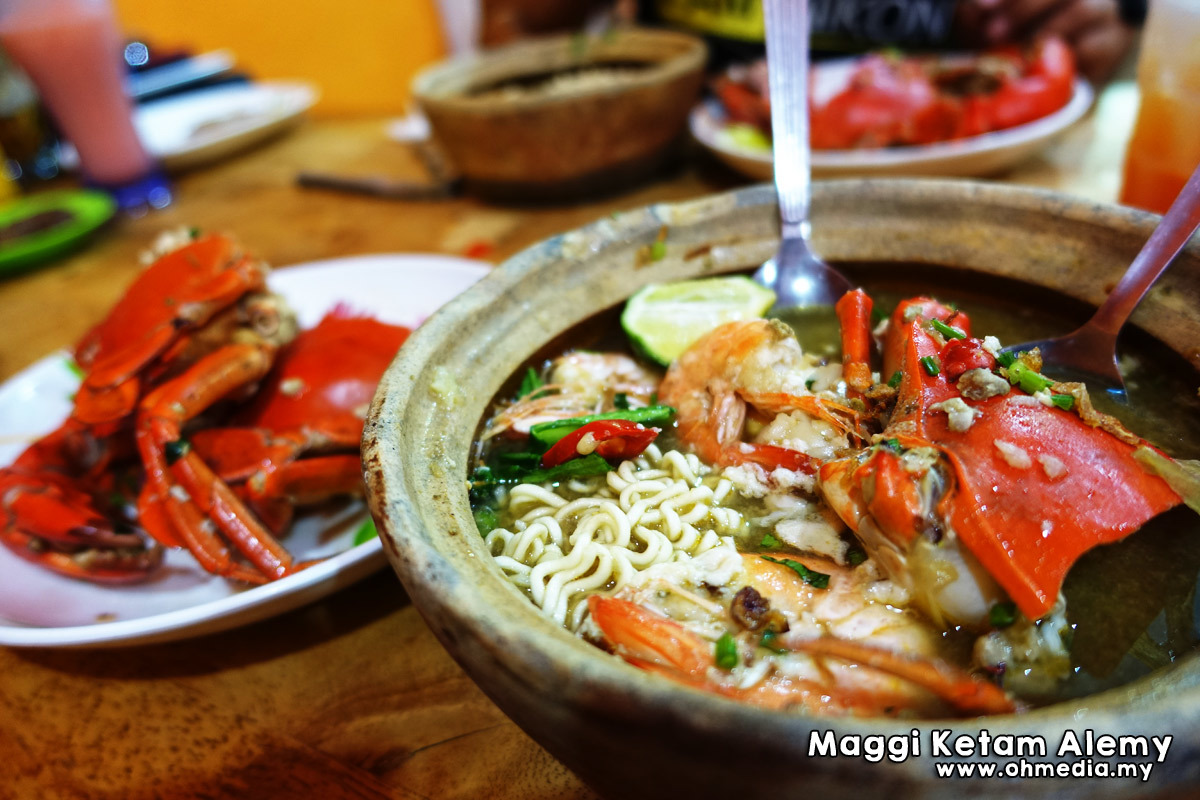 Photo Source

Get one of the fresh and best maggi ketam at Alemy Maggi Ketam.
Address: Jalan Semerak, Pekan Cherang Ruku, 16700 Cherang Ruku, Kelantan. (Google Maps)
Operation Hours: Everyday (5pm-2am)


Need a place to rest? Check out our available homestays at Kelantan!