14 Places To Go in Kota Kinabalu
If you're planning a trip to Kota Kinabalu, here are some of the recommended places that you should not miss!
Kokol Hill
If you want to get the best view of Mount Kinabalu and the view of sunset, head to Kokol Hill that is just 1 hour drive away from Kota Kinabalu city. It is a perfect getaway and a favorite place for locals around Kota Kinabalu to relax and enjoy the wonderful scenery of the city. There are also a few homestays, resorts and restaurants around the Kokol Hill.


Kota Kinabalu Wetland Centre
​
Kota Kinabalu Wetland Centre cover 24 hectares (60 acres) of mangrove forest and it is managed by a local NGO, Sabah Wetlands Conservation Society. This 45-minute walk on the boardwalk will give you the chance to enjoy the pleasant atmosphere of fresh air while watching various kinds of birds, plants and wildlife. There are also many other creatures which live in the wetlands such as butterflies, weaver ants, mudskippers, jellyfish, water snakes and mud lobsters.
Marine Museum


The Marine Museum is located in Universiti Malaysia Sabah, Kota Kinabalu. The attractions inside the museum includes Deep Dive Diorama, which you can experience the oceanic environment, Marine Research Showcase, Marine Aquarium, Mangrove Walks and more.
Masjid Kota Kinabalu
​
Masjid Kota Kinabalu is the second main mosque here. It is built on a 2.47 acres site at the Likas Bay and has become an exemplary of the Islamic contemporary architecture. This floating mosque is situated near the sea and has a prayer hall which can accommodates from 9000 to 12,000 people at a time.
Masjid Negeri Sabah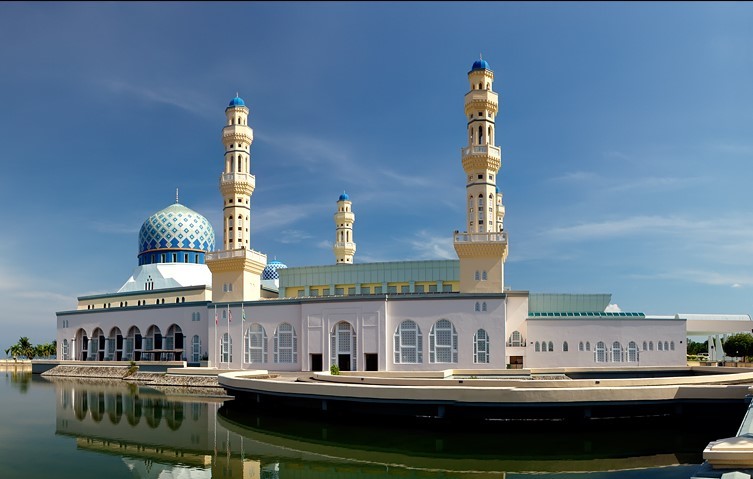 ​
Masjid Negeri Sabah is one of the most outstanding pieces of architecture in Sabah. It is a unique combination of prevailing Islamic architecture and contemporary design. The mosque can accommodate up to 5,000 people at one time and there is also a balcony exclusively allocated for Muslim women during prayer time.
Pantai Tanjung Aru
Pantai Tanjung Aru is located about 6 kilometres away from Kota Kinabalu, Sabah. In the evening, the beach offers a spectacular view of sunset. The place is one of the top attractions in Sabah due to its magnificent long white beaches surrounded with casuarina trees. If you visit the beach after a pouring rain, you will have a high chance to witness a rainbow at the same time!
Pasar Filipina
​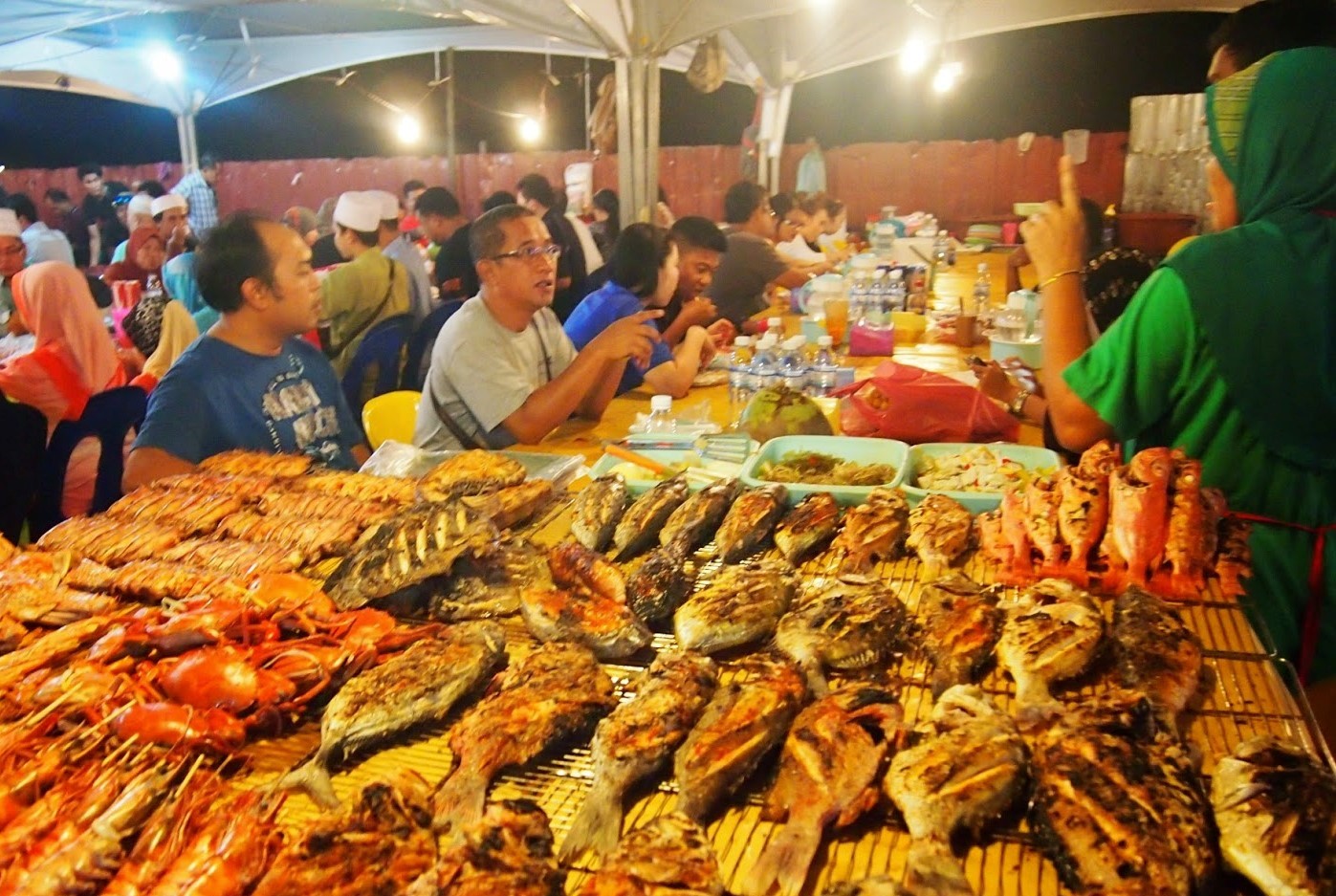 Pasar Filipina is located near the Le Meridien Hotel in Kota Kinabalu, Sabah. The market is one of the most famous destinations in Kota Kinabalu and it is widely known for being the best place to buy souvenirs. The market actually consists of Salted Fish Market, Fruits market, Handicraft Market, Vegetables Market, Fish Market and Cooked Food Stalls.
Pasar Malam Sinsuran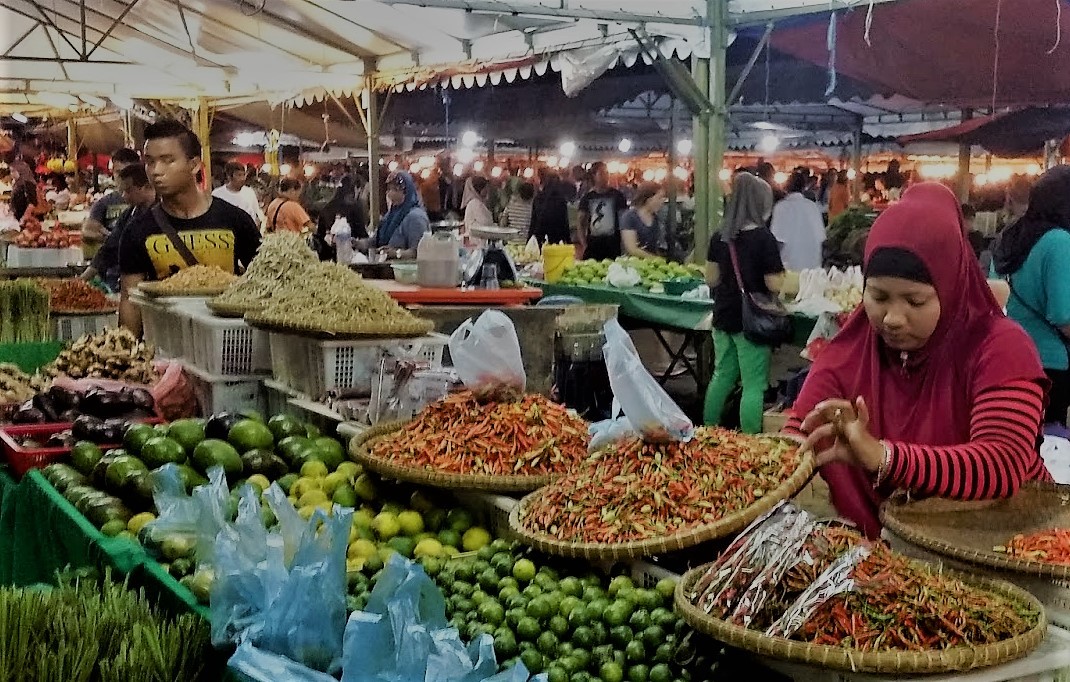 For seafood enthusiasts, eating seafood at Pasar Malam Sinsuran is a must you are in Kota Kinabalu. The night market is located between Kota Kinabalu Central Market and Segama Waterfront. Known as seafood paradise, you will find huge lobsters that are three times bigger than size of your hand here. Besides, a big prawn costs from RM8 to RM20 each and a lobster can cost more than RM100.
Pulau Manukan
Pulau Manukan is the most popular island in Sabah with over 200,000 visitors annually. The island offers clear water and beautiful coral reefs. The place is also accessible from downtown Kota Kinabalu by boat and the journey takes about 20 minutes from the jetty.
Pulau Sapi
Pulau Sapi is one of the top attractions in Kota Kinabalu. Once you've arrived on this island, you will get to see thousands of fishes and the nicest beaches with white sand, sparkling crystal clear water and a coastline fringed with beautiful coral reefs. It is an ideal place for snorkelling, diving and swimming.
Ranau Paragliding Park
Ranau is a town and district which is located 108 km east of Kota Kinabalu and 227 km west of Sandakan. It is a cool hilly region with a view of mountains all around the place and makes it a perfect setting for paragliding scenery. When you're in Kota Kinabalu, don't miss the chance to experience paragliding.
Sabah Indoor Climbing Centre
Sabah Indoor Climbing Centre is located in Likas, near the Kota Kinabalu city. The centre offers a variety of walls with grades catering for beginner climbers and angled walls for the advanced climbers. The climbing walls are built according to British Mountaineering Council standards, with UIAA standard ropes, harnesses and climbing hardware to ensure your safety.
Signal HIll Observatory Platform
Signal Hill Observatory Platform is the highest point in the city and it is one of the best places to experience a great panoramic view of Kota Kinabalu. The place is just a couple of minutes drive away from Padang Merdeka. There's no entry fee at the platform, and the facilities include a toilet, and a small cafe which offers snacks and drinks.
Tambunan Rafflesia Reserve
​
Tambunan Rafflesia Reserve is located near the top of the Crocker Range and this park is devoted to the world's largest flower. The Rafflesia is a genus of parasitic flowering plants and it looks and smells like rotten flesh. The foul odor attracts insects such as flies and pollinators. Once you are in this place, Rafflesia Rangers can be reserved to guide you into the jungle for the day for RM100.

Looking for discounts promotion for your next holiday in Kota Kinabalu? Get them here!