Best Affordable Hotel in Kota Kinabalu, Sabah
Kota Kinabalu is the capital city of Sabah and had received official city status by the Malaysian Government on the 2nd February 2000. Like many cities in the world, Kota Kinabalu is a historical testament of resilience. In fact, towards the end of World War II around the year of 1945, the city was torn to shreds when allied bombings left the city with only 3 standing buildings. With historical events going as far back as the 15th centuries, it is only logical that it plays a big role in putting Kota Kinabalu's name on the map.
History aside, that in itself wasn't the sole reason why Kota Kinabalu is a big player in Malaysia's tourism game and definitely is more than meets the eye. Among other elements of Kota Kinabalu's tourism are attractions such as Kokol Hill, Marine Museum, Tanjung Aru Beach, Filipino Market, Tambunan Rafflesia Reserve, and the list goes on. On paper, these are the attractions in Kota Kinabalu just to name a few but when you're really there, it is a completely whole new ball game.
We all know food is a big factor in any travel destination, after all, food is a not just a basic need anymore at least not when you're traveling. Food has almost become a language between locals and tourists, somehow having a way of communicating through food. A simple local dish can be the pride of the locals and at the same time a soulful cuisine for the tourists to palate. To no surprises, Kota Kinabalu doesn't lose out on their local meals so come on over to try it for yourself.
One question most travelers will be asking when picking an ideal accommodation choice is 'Hotel or Homestay?'. The answer ultimately lies in your preferences as both choices have their pros and cons. Hotels, for example, offers a more luxurious accommodation but at the expense of spacious unit.
To ease your life, we have compiled below some of the best hotels in Kota Kinabalu for your accommodation option!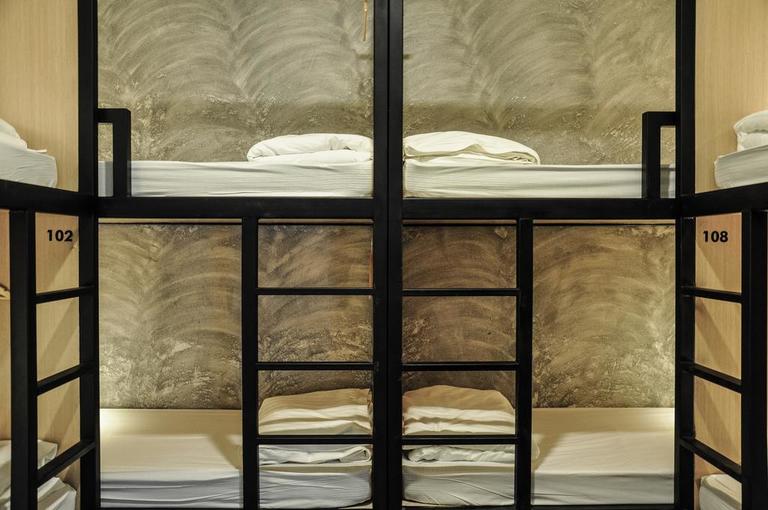 Zoku Lifestyle Hostel is located in the town of Kota Kinabalu or just 10-15minutes drives from the airport. Its' location is very close to the Tanjung Aru beach, Philippines Market, Jesselton Point and the largest shopping mall in Kota Kinabalu is just next to it. The communal area is where you can easily meet new friends or even a buddy travel to start the trip together, yet chilling enough to laid back when the trip has finished. Each shared dormitory-style room provides air conditioning. Shared bathroom facilities include a shower, free toiletries, and towels. Lockers are available at the open space area.
Address : KK Times Square, Off Coastal Highway, 88100 Kota Kinabalu, Sabah
Price : From RM 40/night
For more information on this particular accommodation, click on the link below
Photo credit: Hotel Five 2
Hotel Five 2 is a heritage 3-star accommodation in Kota Kinabalu. This hotel is situated 1100 meters away from Karamunsing Capital and is located within 5 km from Kota Kinabalu city center. Hotel Five 2 offers accommodation in 20 guestrooms complete with free wireless internet, climate control, a safe, multi-channel TV and a stereo system. Bathroom, a hairdryer and guest toiletries are available in every room. For more information on this hotel, click on the link below to be directed to its' official website.
Address : Lorong Sentosa 1, Jalan Merdeka Kampong Air, 88000, Kota Kinabalu, Malaysia
Website : Hotel Five 2 Kota Kinabalu
Photo credit: 1 City Hotel
1 City Hotel is a boutique hotel nestled in the heart of Kota Kinabalu City with 42 beautifully furnished contemporary with natural wood design guest rooms and modern amenities to make your stay more pleasurable. This hotel is also within walking distance to all the famous shopping mall, banks, best fun pubs and famous local food outlets in the city. For more information on this hotel, click on the link below to be directed to its' official website.
Address : Block B, Ground Floor, Segama Complex, 88000 Kota Kinabalu, Sabah, Malaysia.
Website : 1 City Hotel Kota Kinabalu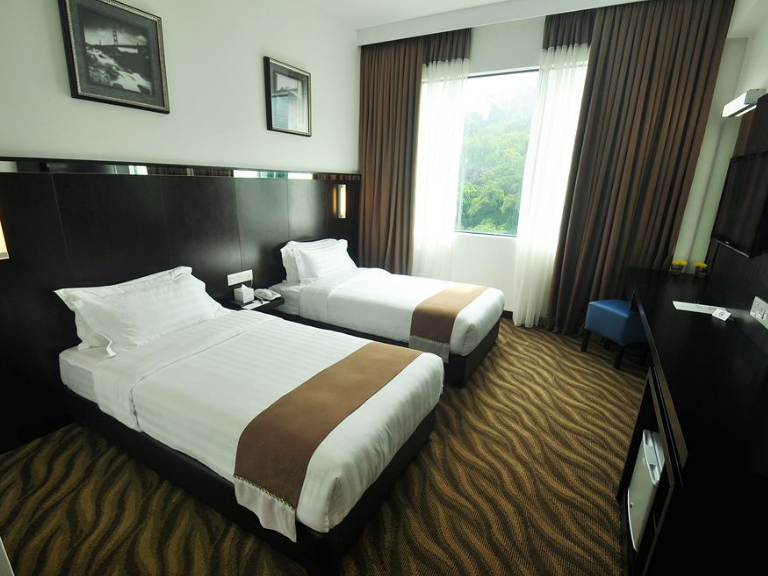 Photo credit: Dreamtel Kota Kinabalu
A prominent landmark in the heart and historical area of Kota Kinabalu, Hotel Dreamtel Kota Kinabalu is located within walking distance to the central district of food, shopping and nightlife with major banks and other commercial complexes within the vicinity. Only 20 minutes from Kota Kinabalu International Airport, this 160-room hotel is stylishly designed with well-equipped rooms for both business and leisure travellers in mind, offering hotel guests superior services and a broad range of amenities.
Address : 5 Jalan Padang, 88000 Kota Kinabalu, Sabah, Malaysia
Website : Dreamtel Kota Kinabalu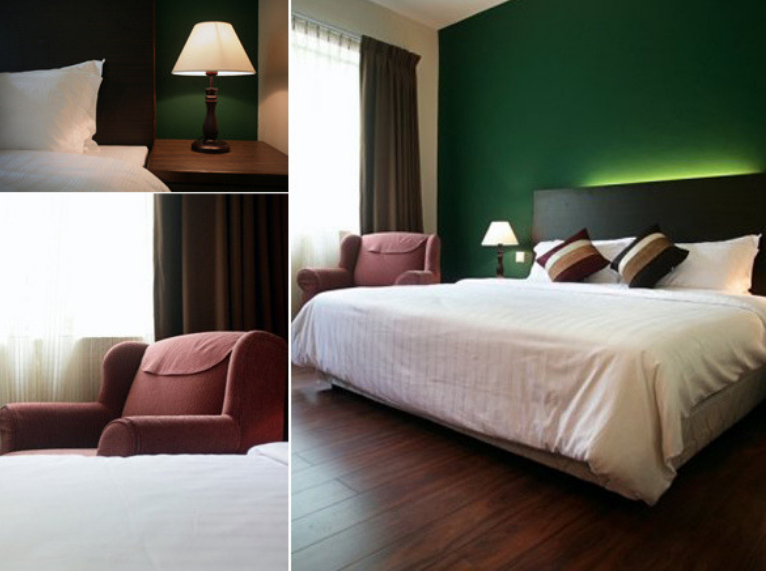 Photo credit: Hotel Eden54
Hotel Eden54 is located in the Kota Kinabalu's historic downtown of Gaya Street, a remnant of WWII in North Borneo. Despite its past history, the city exudes a youthful and carefree vibe of its friendly locals from all walks of life. Nestled on a quiet commercial block, just footsteps outside of KK's commercial shopping and banking zone; it is the ideal berth for the overnight business traveler. Staying at Eden54, expect to live in style, comfort by design and of course luxury for less.
Address : 54 Jalan Gaya, 88000 Kota Kinabalu, Sabah, Malaysia.
Website : Hotel Eden54
So these are the best hotel recommendations but we have more! More is usually better so below are just some of the homestay recommendations for you and your loved ones.
Book today to enjoy promotional price. You deserve a break without having to burn a hole in your pocket.