Best Homestays In Johor Suitable For Family Gathering
By Azham - Apr 14, 2019
(Last Updated Dec 22, 2021)
Love cafes especially hipster cafes? There are plenty to go to in Johor Bahru. What is hipsters? Plain language or "senang cerita" (in Bahasa Malaysia), hipsters are a subculture of people in their 20s and 30s that value independent thinking, counter-culture, progressive politics and appreciation of art, creativity, intelligence and witty banter.
I am glad to share with you 15 best hipsters cafés as recommended by our friend in Singapore. From this list, you're spoilt with choices to try out cakes to burgers, coffee, latte, finger food, complete meals and local fusion dishes.
Or you prefer to eat Johorian food like lontong, kacang pol, asam pedas and laksa johor? There are many good restaurants and stalls you can go to and enjoy these delicious dishes. I share with you 25 places you can try out and this was based on the recommendation made by a blogger Awal Faiz. Enjoy your food hunt!
There are also cozy affordable accommodation in Johor big enough to host family gathering! Here we have listed you the best homestays in Johor Bahru suitable for family gathering.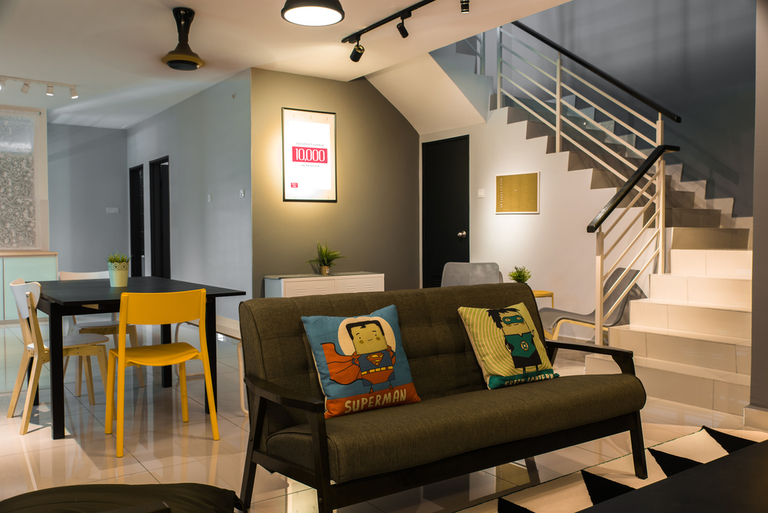 Rumah JOHO homestay is highly recommended if you have a big family. This homestay can easily accommodate 10 guests with its 4 bedrooms and 4 bathrooms. All rooms are fitted with aircon, the bathrooms has water heater and the kitchen is cooking friendly. WiFi is free too.
Rumah JOHO is centrally located with many malls nearby and only 20 minutes away from both Hello Kitty Town and Legoland. Bandar UDA Utama is also closed to stalls and restaurants if you don't fancy cooking while on a holiday.
Address: No. 18, Jalan Uda Utama 7/3, Bandar Uda Utama, 81200 Johor Bahru, Johor
Price: RM350 per night
Total guests: 10 guests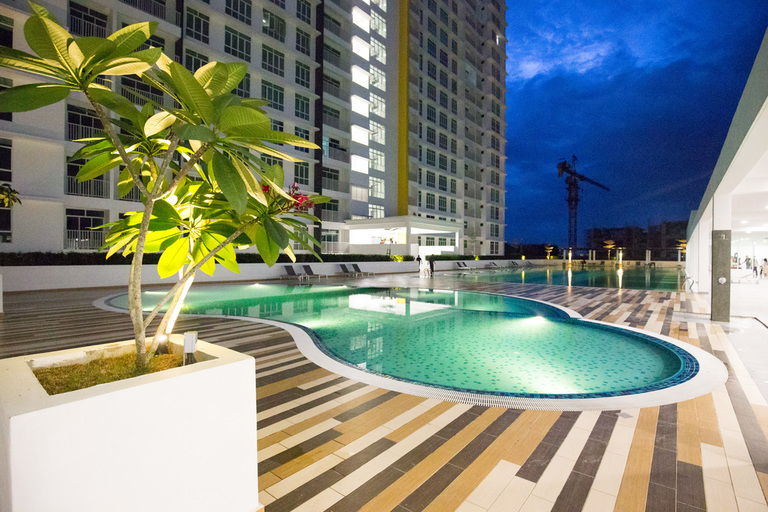 Swimming pool! Yes this homestay offers swimming pool facility for you and family to enjoy. Although only have 2 bedrooms but this homestay is spacious enough to accommodate up to 8 guests. All rooms are fitted with aircon and other family members can bunk at the living room.
If you wish to do BBQ, the condo has such facility that you can rent it from but it is highly recommended that you lodge your request with the host. The kitchen is equipped with cooking utensils and preparing for a BBQ can be easily done at the kitchen.
Address: Twin Danga Residence, Taman Laguna, 81200 Johor Bahru, Johor
Price: RM199 per night
Total guests: 8 guests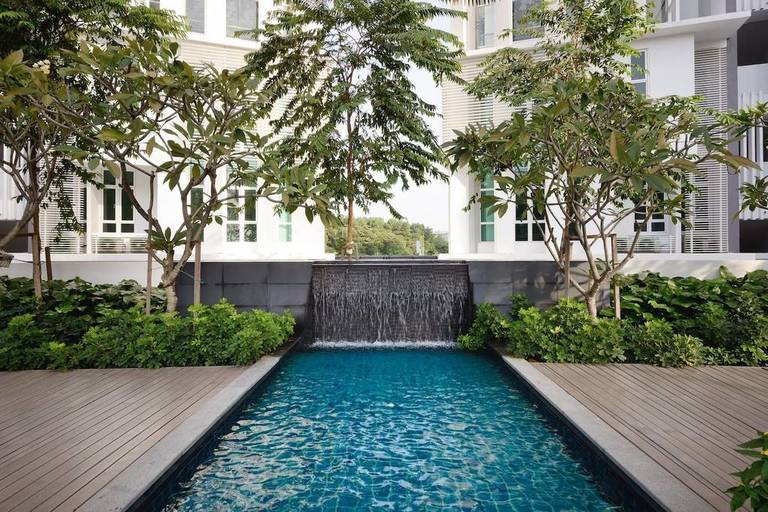 If your holiday in Johor Bahru includes a trip to Legoland, this is the best choice homestay to consider. It has 2 bedrooms fitted with aircon and 2 bathrooms. The living hall is spacious to accommodate extra guests with a kitchen that is good enough for reheating of food. This condo-typed homestay can accommodate up to 8 guests.
Address: 1Medini Residence, jalan Legoland, 79250 Nusajaya, Johor
Price: RM288 per night
Total guests: 8 guests
Click here for promotion code!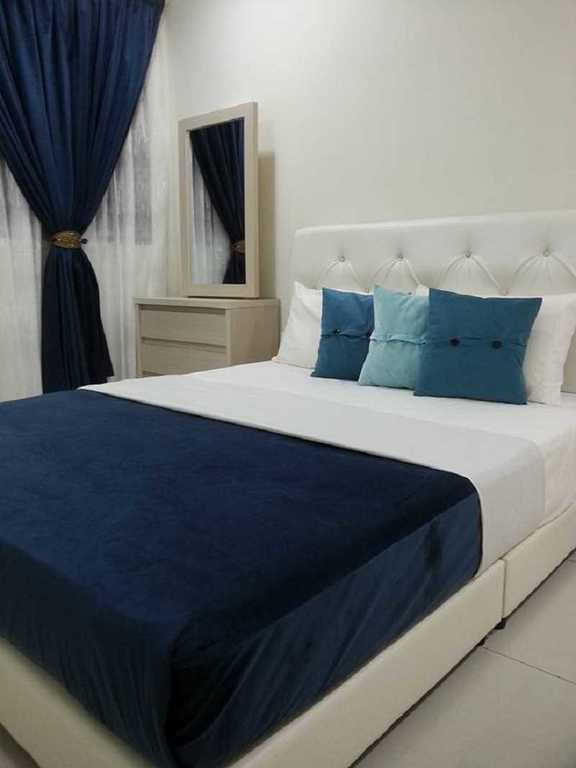 The famous Pusat Santai Bateri is only 1.5km from this homestay and with 4 bedrooms and 2 bathrooms, this homestay can accommodate up to 10 guests. The kitchen is equipped with full cooking utensils if you wish to cook and the TV is log to Astro channels.
Address: No.7 Jalan Sri bahagia 3, Taman Sri bahagia, 81200 Tampoi, Johor Bahru
Price: RM350 per night
Total guests: 10 guests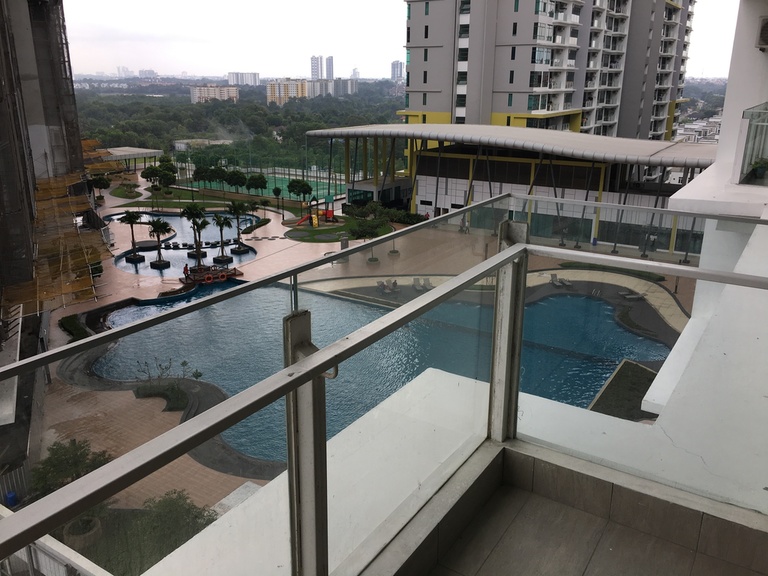 Plentong Tesco Extra is located opposite of this condo and it has 2 bedrooms and 2 bathrooms good enough to fit 8 guests. Rooms has aircon and cooking utensils are available at the kitchen. Towels and linens are also available complimentary from the host. You and your family can also enjoy the swimming pool facility.
Address: 2 Jalan Masai jaya, taman Saujana, 81100, Johor Bahru
Price: RM220 per night
Total guests: 8 guests
We have many more accommodation options in Johor Bahru for you to choose from!
Just click on the below image to see the full list.