6 Theme Parks For Your Children This School Holiday
Theme park and water park are the favourite place for children. They get excited when you bring them to there. Theme park is the heaven of children, it's also the wonderful place for family traveling. Start to kick your butt out from your lovely home. Plan a trip for the children and travel together.
1. Sunway Lagoon Theme Park
Sunway Lagoon is one of the best and popular theme park in Malaysia. Sunway Lagoon is located at Subang Jaya, Selangor. You can find water park, amusement park, wildlife park, extreme park, scream park and the newly launched Nickelodeon Lost Lagoon. You can try all the activities in different park. You can try in water park before you go for other. There is a bit crowd after the noon time.
Water Park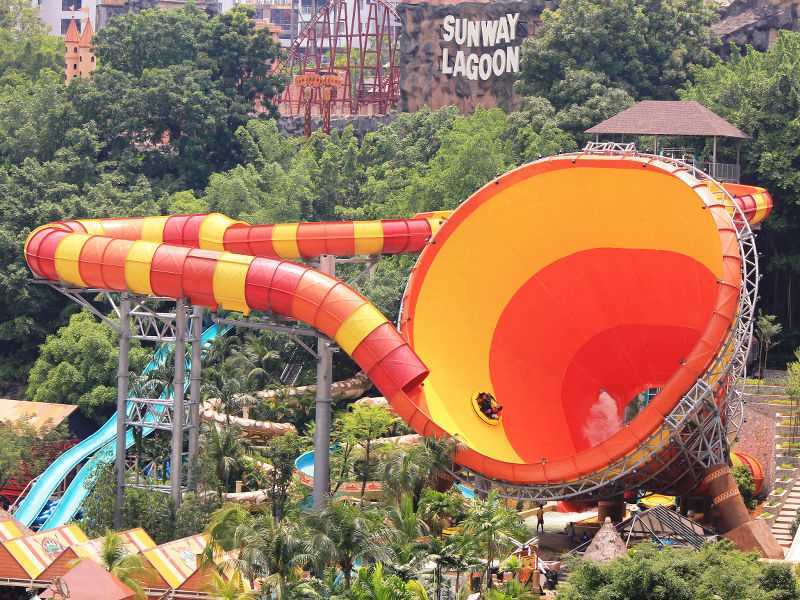 Vuvuzela
[Image via Sunway Lagoon]
This is the most attractive game in the water park. Vuvuzela is the name. You have to climb up to 11 storey high to play this. Please make sure you have the tube with you before you climb for this. There is a long way before entering the funnel. This vuvuzela claim that is the world's highest, largest and most thrilling water ride. It's a must to try it if you drop by here. You will never regret.
If you feel that game is too 'vigorous' for you, you can go to the beach and take a rest at there. The wave is come from certain time, so you can wait for it if you want to feel it. You can try other games at another park.
Amusement Park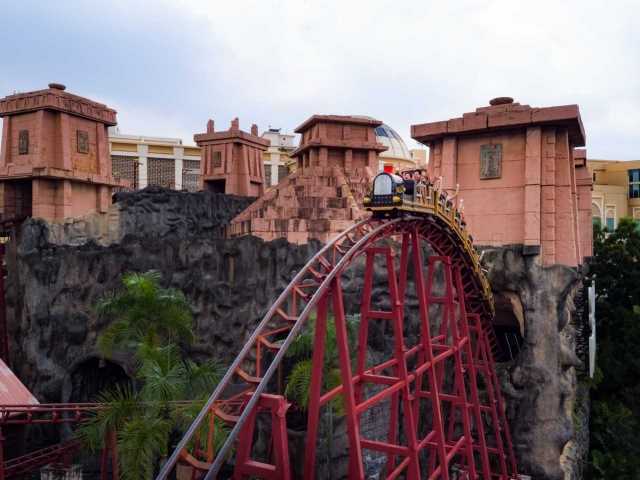 Lost City Scream Coaster
[Image via Sunway Lagoon]
After you have finish explore in the water park, you can go to Amusement Park. Lost City Scream Coaster is one of the excitement game in this park. Scream all the way start from beginning until the end. Whoever feel stress in work or study, take a sit on this and start to scream out your stress.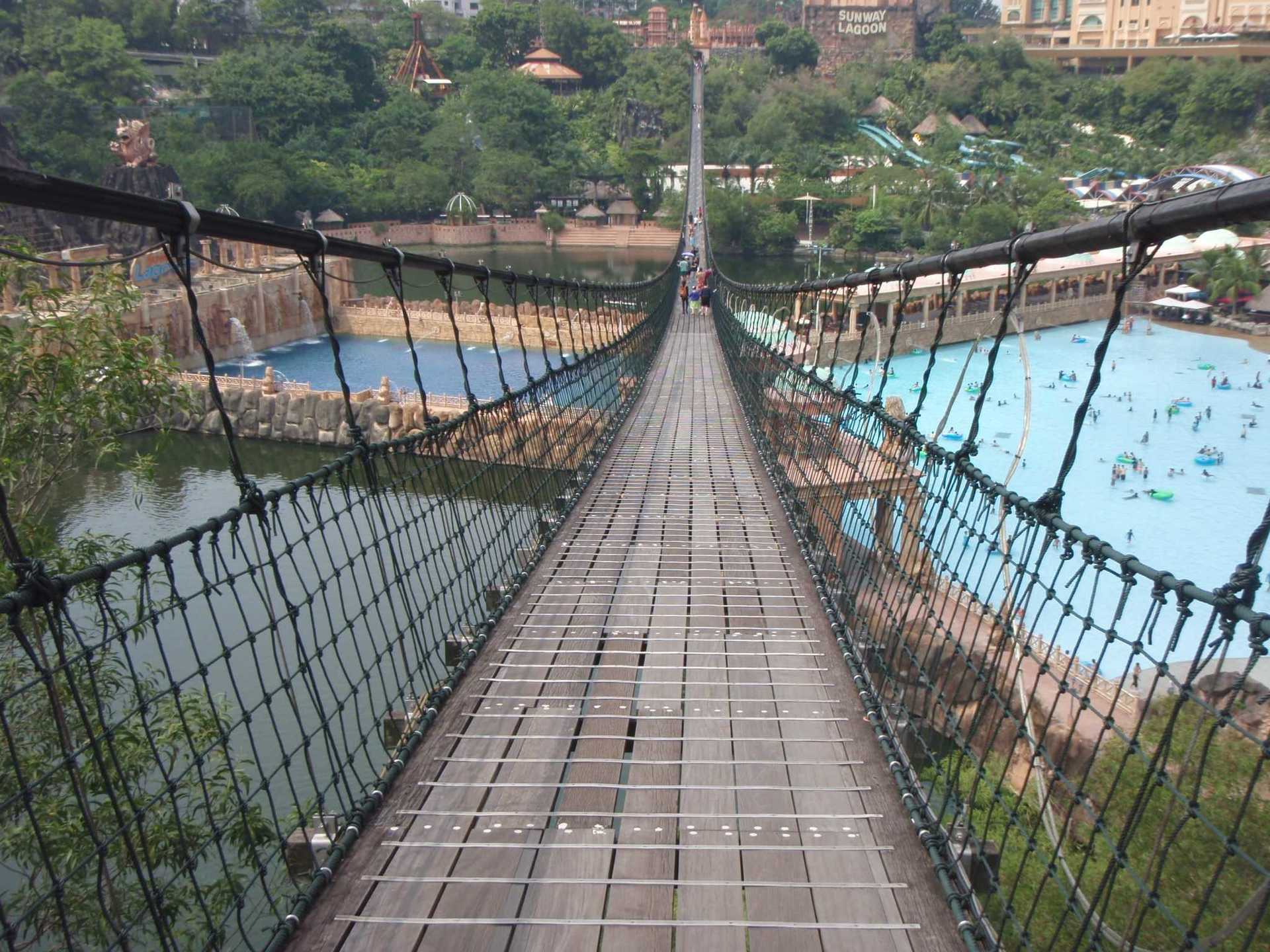 Suspension Bridge
[Image via: Wikipedia]
This is the world's longest pedestrian suspension bridge. The length is 428m long to enable you to see the whole view of the park. Take photos with your family member with this beautiful place.
If you are an animal lover and like to see those animal, you can go to the wildlife park in Sunway Lagoon. You can find Bird Savannah, white tiger and lion, tree top terrace and others. There is a wildlife multi- animal show from 3pm-3.15pm daily at wildlife theatre.
The extreme park and scream park is not suitable for children who is below 12 to enter. If you are a teenage or young adult, you might want to take a challenge to these two park. Do enjoy in these two park. In the extreme park, the heart beating activities are provided. The longest flying fox in Malaysia, G- Force X, Bungee Jump and other activities are available in the park.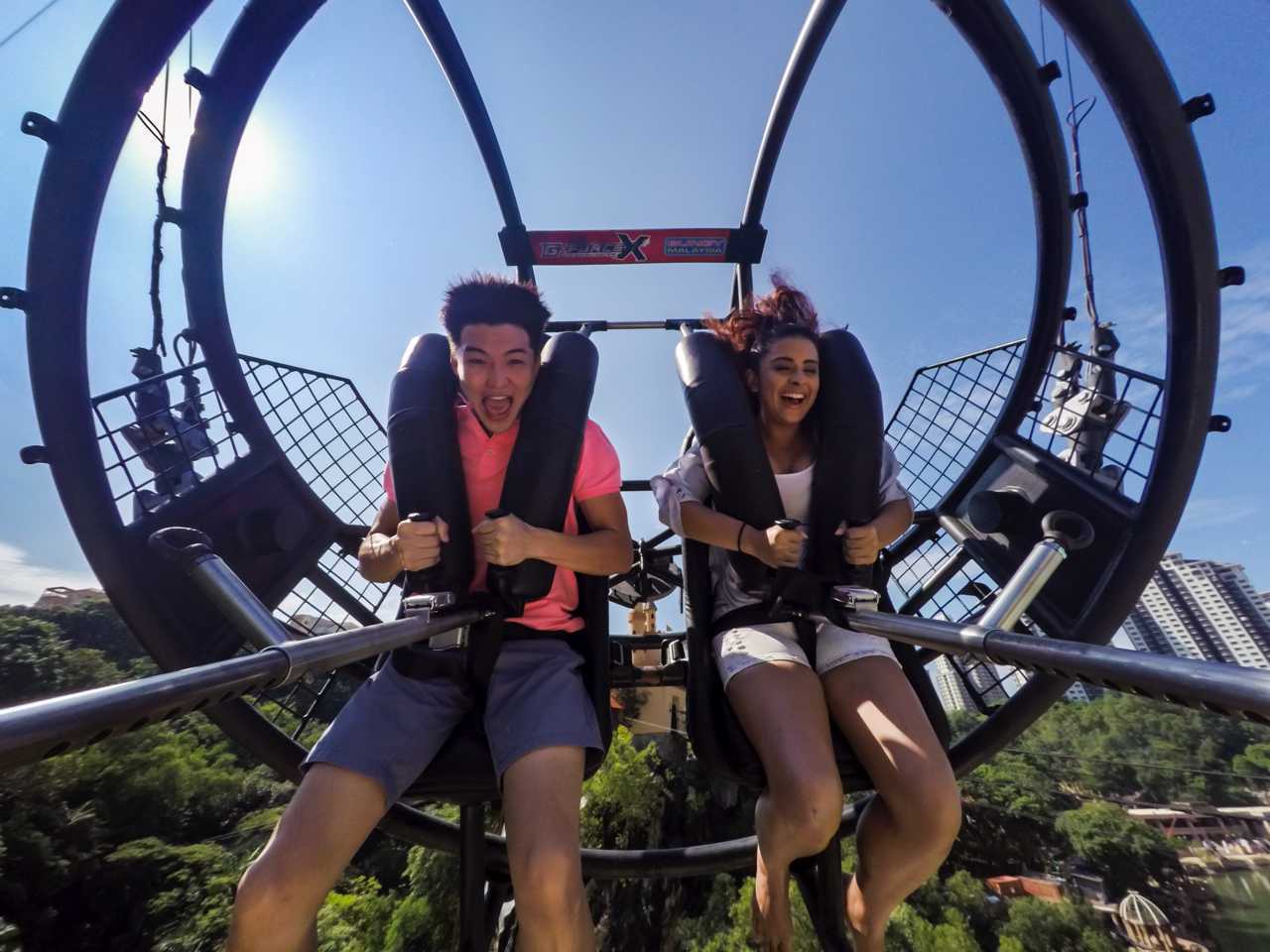 G-Force X
[Image via Sunway Lagoon]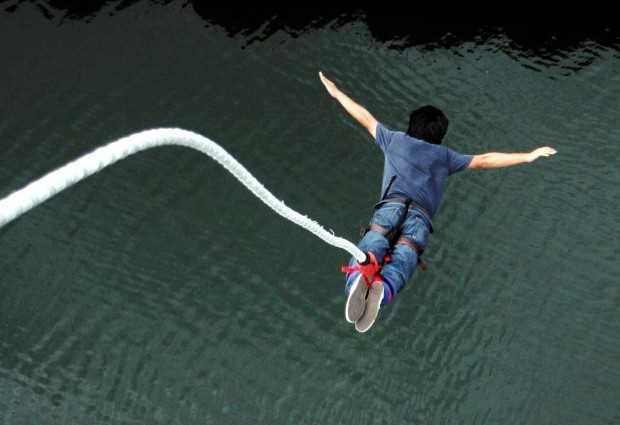 Bungee Jump
[Image via Xtremespots]
Nickelodeon Lost Lagoon
This is the newly open park in Sunway Lagoon. The most attractive game is Monsoon 360. Get a tube to play for Moolalah Adventure River, Jungle Fury, Kubarango and Primeval. You can take a rest at the Explorer's Campsite before you continue to play other activities. After playing the water activities, you can 'dry' yourself by taking the Explorers' Trail. Do enjoy the bird chirp and the beautiful view of waterfalls, ponds and hill. Plan it for your upcoming holiday.
Location: 3, Jalan PJS 11/11, Bandar Sunway, 47500 Petaling Jaya, Selangor, Malaysia
2. Lost World of Tambun
Lost World of Tambun is located at the Sunway City Ipoh, Perak. It is under Sunway Group. The theme park is surrounding with water park, amusement park, petting zoo, tiger valley, tin valley and adventure park. Children definitely is not suitable to play at the adventure park. The tin valley is all about the information and the history of tin mining in the past. Bring your children to learn the history of tin mining. There is also a various of shows can be watched in different time.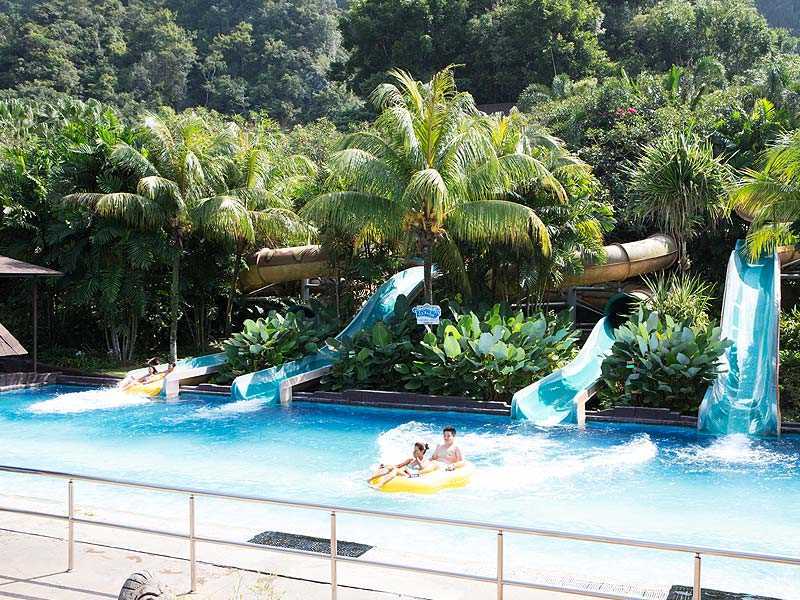 Tube Raiders
[Image via Sunway Lost World of Tambun]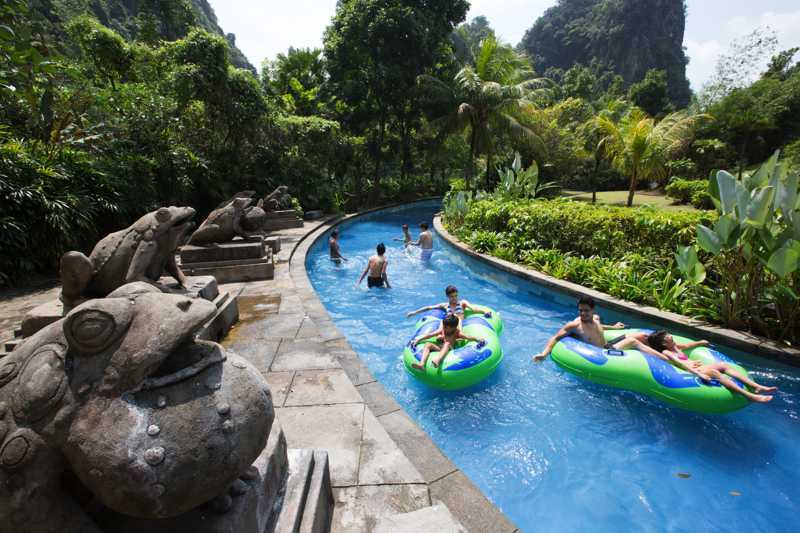 Adventure River
[Image via Sunway Lost World of Tambun]
Location: 2, Persiaran Lagun Sunway 1, Sunway City Ipoh, 31150 Ipoh, Perak, Malaysia
3. Bukit Gambang Water Park
Bukit Gambang Water Park is located at Pahang which is under Bukit Gambang Resort City. The theme park is divided into two part which is water park and safari park. There is Aqua Play, Kids Slide, Beach, Penguin Island and other activities can be found in the water park. Basically, there is small zoo in the safari park. You can find some of the animals like lions, alpaca and other animal via wild Savannah Drive. Other than that, you also can watch the various animal show in different time. Make sure you check for the time for the show.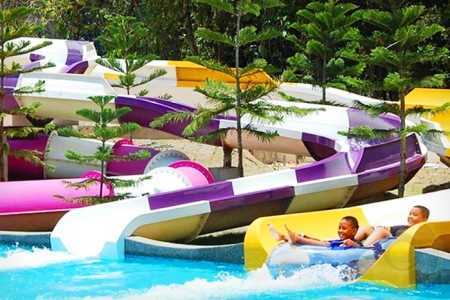 Kids Slide
[Image via Groupon]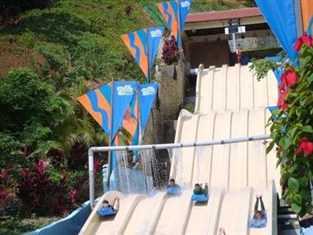 6-Lane Racer
[Image via Accomodations Asia]

Alpaca
[Image via bgrc]
Location: Bukit Gambang Resort City, 26300 Gambang, Pahang, Malaysia
4. A' Famosa Resort
A' Famosa Resort is not just famous for its history of being a Portuguese fort back in the 16th century. In fact, A' Famosa Resort is one of the country's best holiday and golfing destinations. What attracts most of its visitors is its theme park – the A' Famosa Water World. This theme park features a variety of water-related activities that is sure to keep the kids busy and happy. The water theme park consists of cool pools like the Wave Pool and the Kid's Adventure Pool. Other than that, the kids can also enjoy the exciting slides like the Family Raft Slide and the Inner Tube Slide. Other activities that children can engage in are fun pool games like ball games, relay games and icebreaker games. Also, these activities are open all day long, so children can play them for a whole day.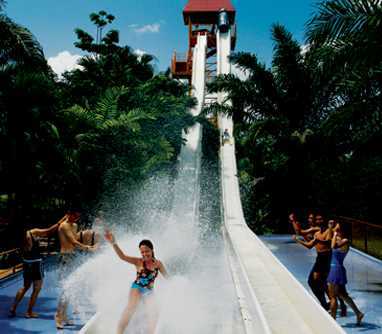 High Speed Slide
[Image via A'famosa]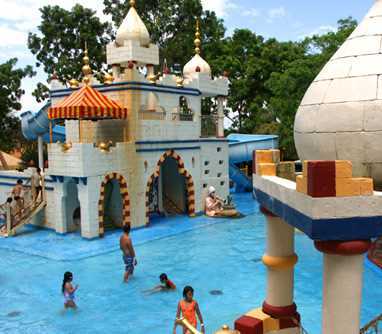 Arabian village
[Image via A'famosa]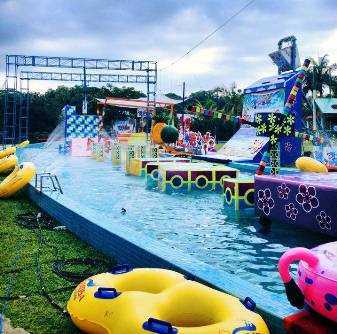 Splash
[Image via A'famosa]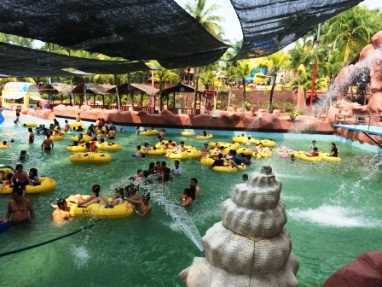 Wave Pool
[Image via A'famosa]
Location: Jalan Kemus, Simpang Empat, Melaka, 78000 Alor Gajah, Malaysia
5. Melaka Wonderland
Melaka Wonderland is a fairly new theme park, and yet it is one of Melaka's main attractions. It attracts tourist from Malaysia as well as other countries in the world. The theme park is designed to accommodate it visitors of all age – kids, teenagers, adults and families. Why Melaka Wonderland is especially great for the kids is because they take the safety of visitors very seriously. The water theme park features a total of 16 fun attractions including exciting rides like the Tornado Chaser and the Kamikaze Racer. There is also a souvenir shop where visitors can buy their cute little plush toy, Rexy, Trinopony, Baby Pink & Blue or take photographs as memento.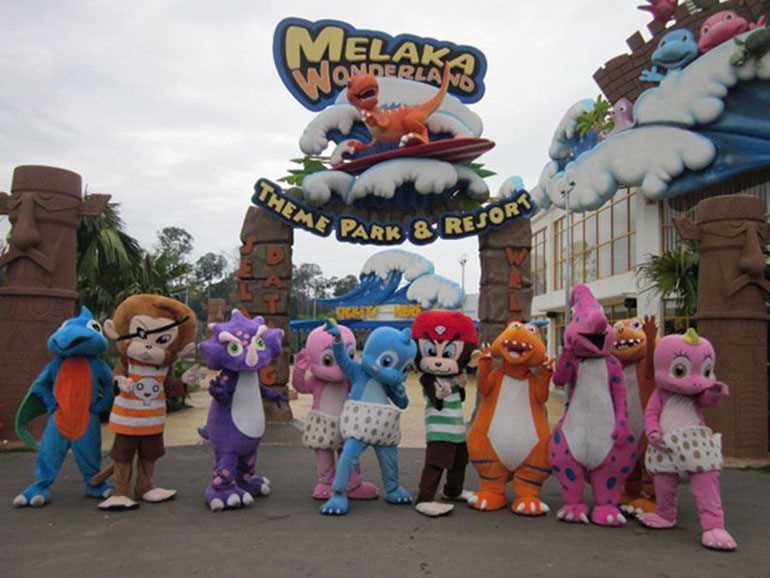 Entrance
[Image via Melaka Wonderland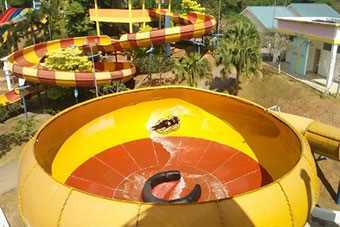 Tornado Chaser
[Image via Melaka Wonderland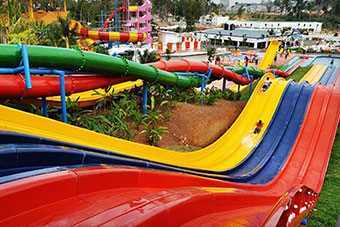 Manikaze Race
Image via Melaka Wonderland
Location: Lot PT17178, Lebuh Ayer Keroh, Hang Tuah Jaya, 75450 Ayer Keroh, Malacca, Malaysia
6. i-City Theme Park
City is yet another new theme park. Its main attractions are the WaterWorld @ i-City and the SnoWalk. The water world features great rides like the Tornado Ride and exciting pools like the Aladdin-themed Kids Play Pool that your children can enjoy. Other than water activities, children can also experience the SnoWalk – a winter wonderland with climate below 5 degrees Celcius. The SnoWalk features ice sculptures and play zones for fun activities like snowman building and ice-sliding. There is just never a dull moment in i-City Theme Park.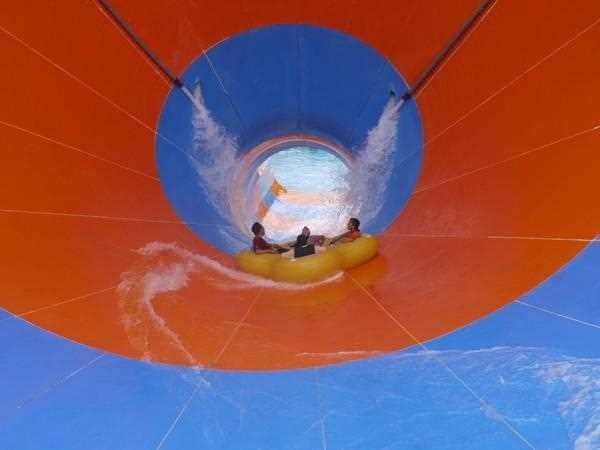 The Tornada Water Slide
[Image via www.spy.my]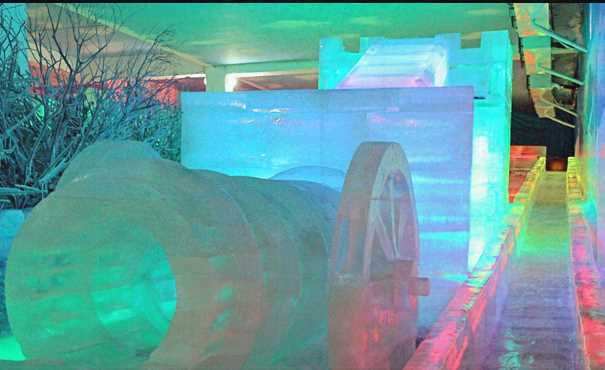 [Image via Amazing Malaysiaa]
Location: D-1-G, /AJ, Jalan Multimedia 7/Ah, I-city, 40000 Shah Alam, Selangor, Malaysia
Bringing your kids to one of the theme park in Malaysia that is listed in the list above will keep them busy during school holiday and they might have some interesting stories to talk about with their friends when they went back school. Those theme parks are located in different states in Malaysia, therefore you might want to plan ahead as those places will expect large crowd during peak season. If you planning to stay overnight in places that is near the theme park, do head over to our website to check out the lists of hotel and homestay available in that area. Remember to drive safe and plant the trip in advance to avoid traffic jam so you can reach your destination faster.
Read also: 10 Hotels Below RM200 per Night In Selangor