Long Weekends in 2021 For Malaysians
By Farah - Oct 14, 2020
(Last Updated Oct 21, 2020)
2020 is a tough year isn't it? Glad we only have a few months to reach 2021. Let's do our best to flatten the curve again so that we can fully enjoy 2021. Practice social distancing, wear face masks and practice clean hygiene.


It's always better to plan your holiday ahead. Yes, by ahead, we meant your holiday in 2021. We suppose that you have had your holidays in 2021 planned out! Carry the plan with SOP preparation and always (I know I repeat this sentence more than one time, haha) practice social distance, use face masks, and wash your hand frequently.


Well if you have not planned anything yet, here is the list of Long Weekends in 2021. Feel free to check our blog for your future holiday planning!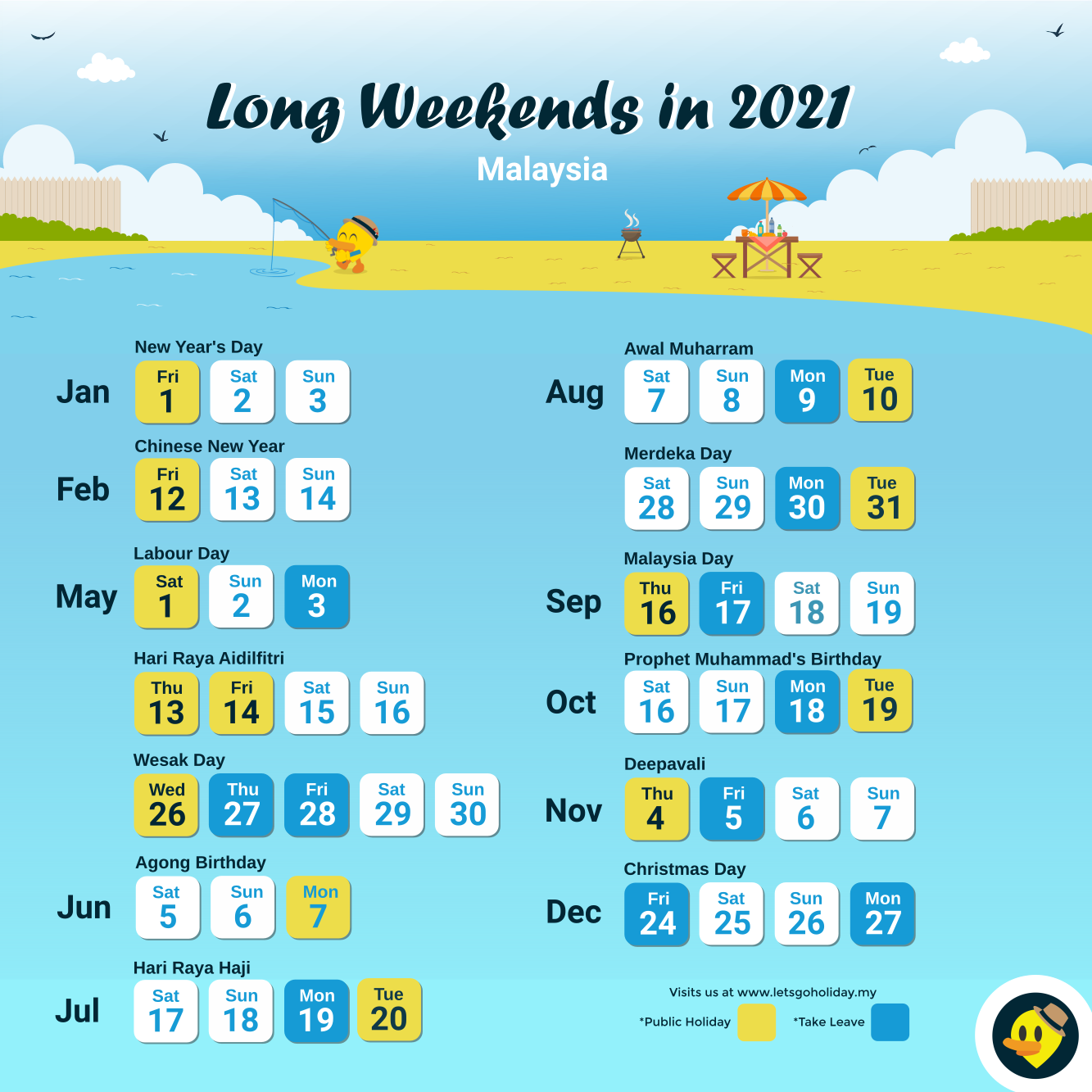 Note : This data is accurate as of publishing time. But some dates might be changed as official changes are announced


It's not a holiday if we are not going to have some fun outside from your house. Assume that this is your reward after being a good human that practice (yup, I am going to say it again, haha) SOP all the time no matter where you are. Read more thru our blog and note down some beautiful hotels and places that can be part of your holiday planning for 2021.

Glamping in the City : Where Nature Meets Urban Comfort


A luxury place on a rooftop terrace in Kuala Lumpur's Golden Triangle, they designed it so that people experience the great outdoors. Positioned to ensure utmost privacy, Castra offers 2 mediterranean-inspired luxe tents set in an expansive 4,000 sqft private garden lounge with a barbecue deck.


Drawing influences from Mediterranean aesthetics, these 28sqm bohemian canopy tents offer all the comfort you can expect from a luxury lodge and bespoke amenities that set the tone for a glamorous camping experience.


Situated on the secluded beach of The Straits Of Melaka, in Pengkalan Balak Village, The Amanjena Resort is a vision of traditional Cycladic architecture and a taste of Greece. This resort, presents a magical blend of elegant white and cool blue amid lush green paths and courtyards set against a vivid backdrop of deep blue sky and sea.

This laid-back, beachfront hotel is 5 km from Al-Khawarizmi Astronomy Complex and 26 km from Melaka the Historical City. The room comes with sea or garden views, features flat-screen Smart TVs, minibars and a private balcony. There are also bedroom chalets with living rooms and furnished balconies. For discerning guests, the resulting elegance of The Amanjena Resort and the high-end hospitality translate to unforgettable holidays in Melaka in the land of history and sun.

Make your reservation at The Amanjena Resort, one of the best hotels in Melaka, and enjoy your vacation by the beach! They reassure you that your accommodation will be a unique experience!

Rewrites what modern hospitality means with their majestic suites at Arte Plus, Jalan Ampang where you will easily find yourself at home. Beautiful decorations on their building that are totally insta-worthy. Swimming pool for those that like to play with water.


Yes, they have all the things you'd expect – Free Wi-Fi, crisp sheets and amazing facilities – but they also tailor our services to focus on authentic Malaysian culture & experiences.
Hope you will like some of our suggestion. Feel free to browse thru Let's Go Holiday for more accommodation choices. Let's hope 2021 doesn't have to be gloomy like 2020, there are still some hopes to planning your leave in advance. So, make the most of your annual leave allowance and plan any upcoming trips around these days off.