Encore Melaka - A World Class Theatre Experience
By Badriah - Apr 29, 2019
(Last Updated May 02, 2019)
Some say that if you're a Melaka born, you won't be as touched as those non-Melakan when you watch the Encore Melaka show.
I had the privilege to watch the show with a friend of mine the other day. We were both born and bred in Melaka. So I guess we were the right fit to test the hypothesis out.
We took the 5.30 p.m. show and upon entering the theatre, we were impressed to see how big it was. We went to our seats and while waiting for the show to start, they shared a video on how they came about building Encore Melaka.
Throughout the 75-minutes show, I remember my eyes being wide open most of the time. I mean, I could hardly blink. There were 7 scenes and each scene was very beautiful and moving. I struggled at that time and I still do now to find the right adjectives to describe the performance, but the least I could say is mind blowing.
Mid-show our eyes were already wet. We both cried. A scene where a child was raised by 6 mothers of different races got to us really bad with its touching storyline. The hypothesis did not hold true. We are both true "anak Melaka" and we were barely able to keep our tears from streaming down our faces.
The show ended and we went out having a feeling we never had before. We were feeling content and peaceful. The way they managed to depict the beautiful mix of cultures and people that helped build Melaka until it has become how it is now makes me feel that I am proud to be a Melakan.
If you're thinking whether you should watch the Encore Melaka show, below I list you 3 reasons why watching the show at least once in your lifetime is a MUST!
1 - A Brilliant Combination of Art & Technology
Watching Encore Melaka show is not the same as being in a regular theatre or a cinema. If you're a theatre fan, watching the show at least once must be in your bucket list.
It's the first performing arts theatre in Southeast Asia that comes with a 360-degree rotating audience platform. That means, throughout the show, your seating platform will be rotating bringing you to different scenes performed by 200 local performers on its 240 metre-long stage. Not just that, you will get to be amazed with the use of multiple hydraulic stages during the performance paired with innovative lights and sound.
Remember I said I could hardly blink? That's because throughout the performance, there is also a 3-D projection mapping combined with theatre props that creates a virtual reality which made me feel like as if I was really time-travelling.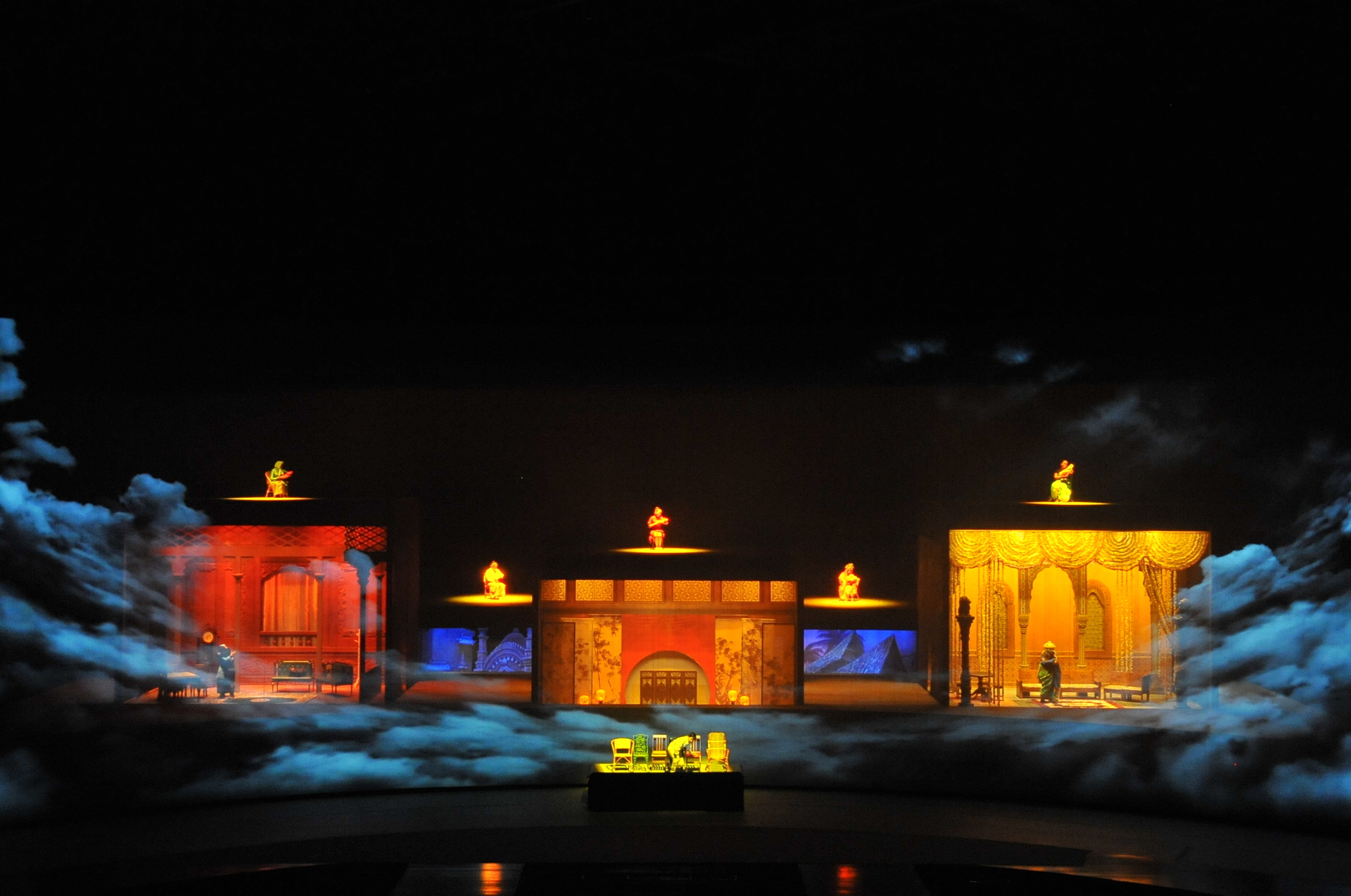 Clever use of hydraulic stages during one of the scenes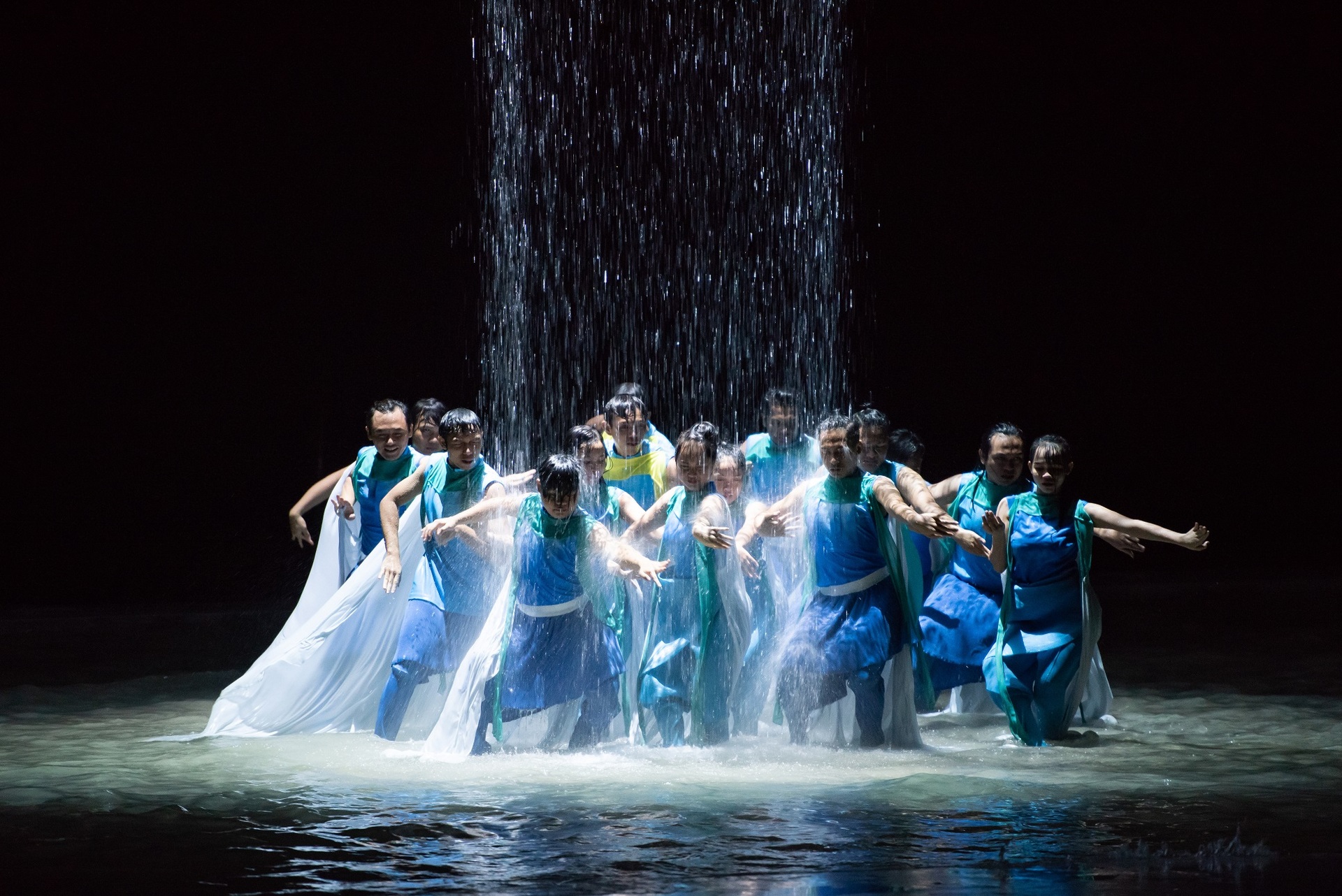 The special effects were too good I got confused if real water was used during this scene (They used real water by the way! )
2 - History Told From A Different Perspective
During our school years, we had to memorize those significant dates and events in our history books related to our country's independence. That was when we learned how Melaka got its name and when it was colonized by the British and many others. It was overwhelming and dry, wasn't it?
Encore Melaka picks a different view of history for its audience. It emphasizes on the people and their cultures and traditions. Starting with a scene of Parameswara historic moment when a mouse deer bravely kicked one of his guard dogs, the scenes develop into when Cheng Ho's fleet arrived to Melaka shore and how the Baba Nyonya culture began when they fell in love with the locals.
Reflecting the harmony that exists among the various racial groups in Melaka, the show is presented in English, Bahasa Malaysia, Mandarin as well as Tamil, local dialects and Portuguese.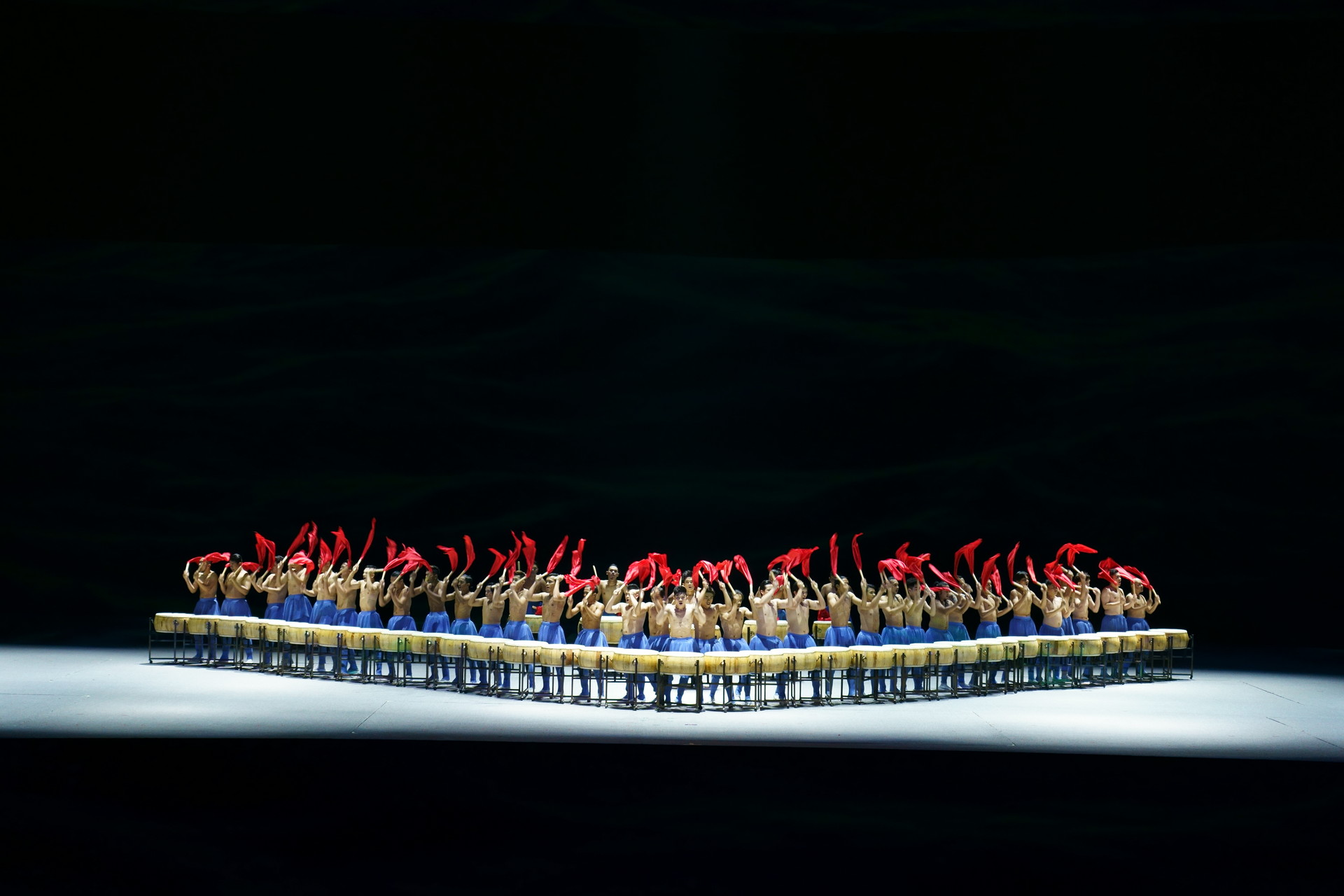 The drum scene depicting the arrival of Cheng Ho's fleet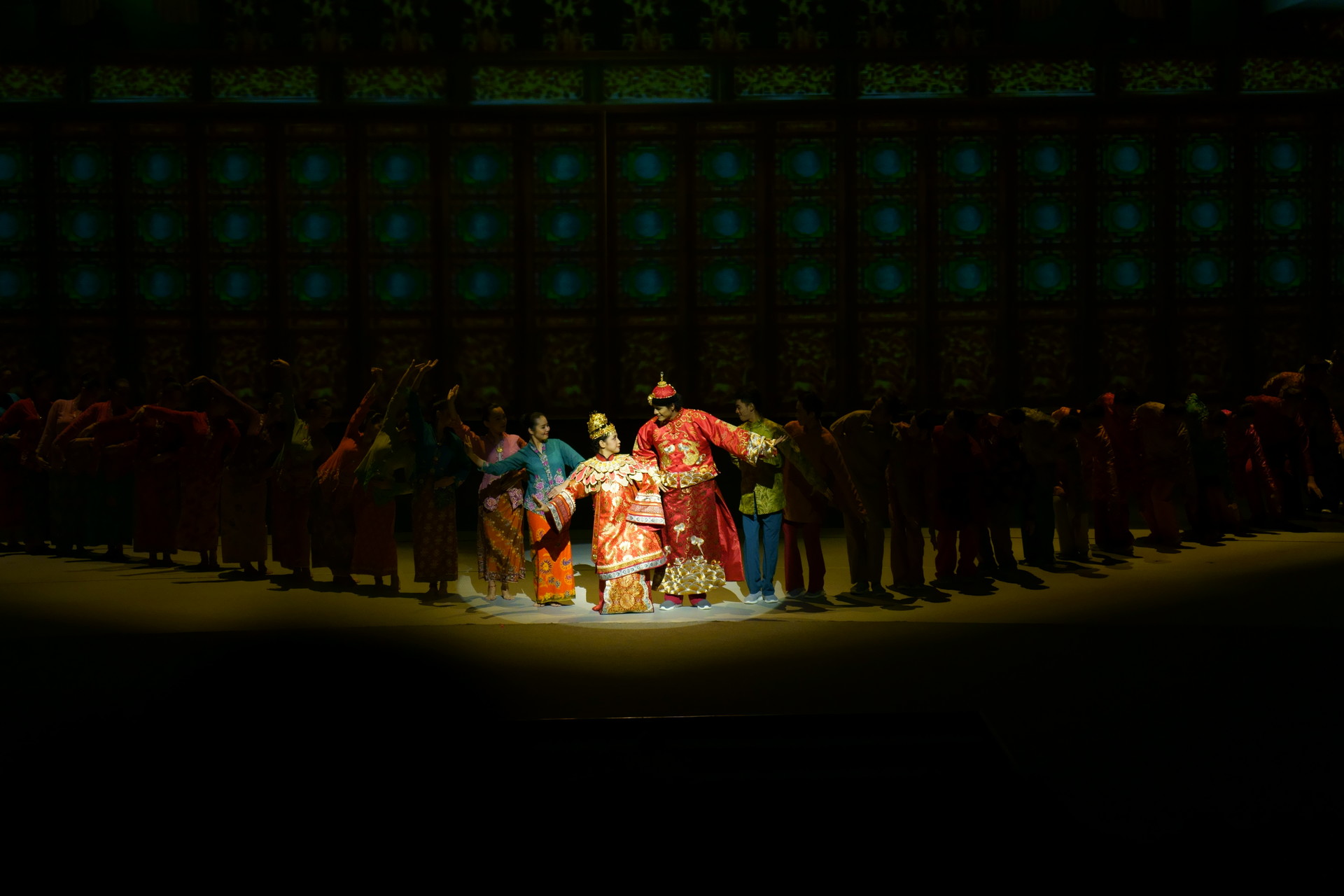 A scene showing multiculturalism among the harmonious society in Melaka
3 - Impressive Architectural Wonder
It didn't take long for Encore Melaka to become a major tourist attraction in Melaka since its inception in 2018. It has now become one of the most instagrammable places in Melaka among the tourists and even for wedding photography!
Overlooking the Straits of Melaka, its building wall is made of thousands of fish scale-like LED panels and 400,000 pieces of aluminium composite panels. The panels act to reflect light from the Melaka sky. The theatre, which comprises of the colors blue and white symbolizes purity and simplicity. From afar and even at night, one will surely be mesmerized with the magnificent view of the iconic building.
I myself feel the performance, the architecture and even the location choice for Encore really blend perfectly. I have to praise all the people at all stages involved in building this state-of-the-art performing arts theatre for getting everything done brilliantly and so flawlessly.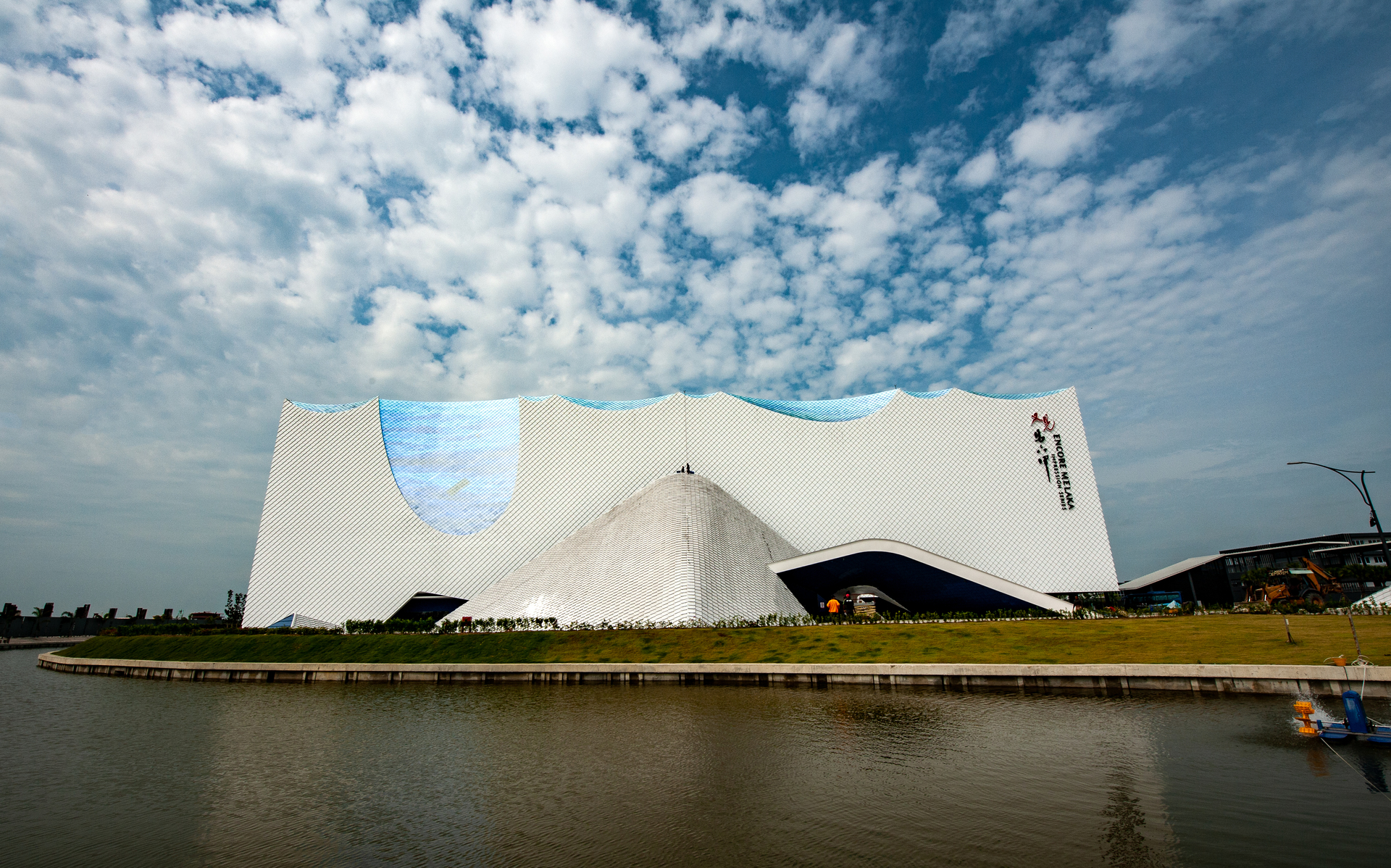 Encore overlooking the Straits of Melaka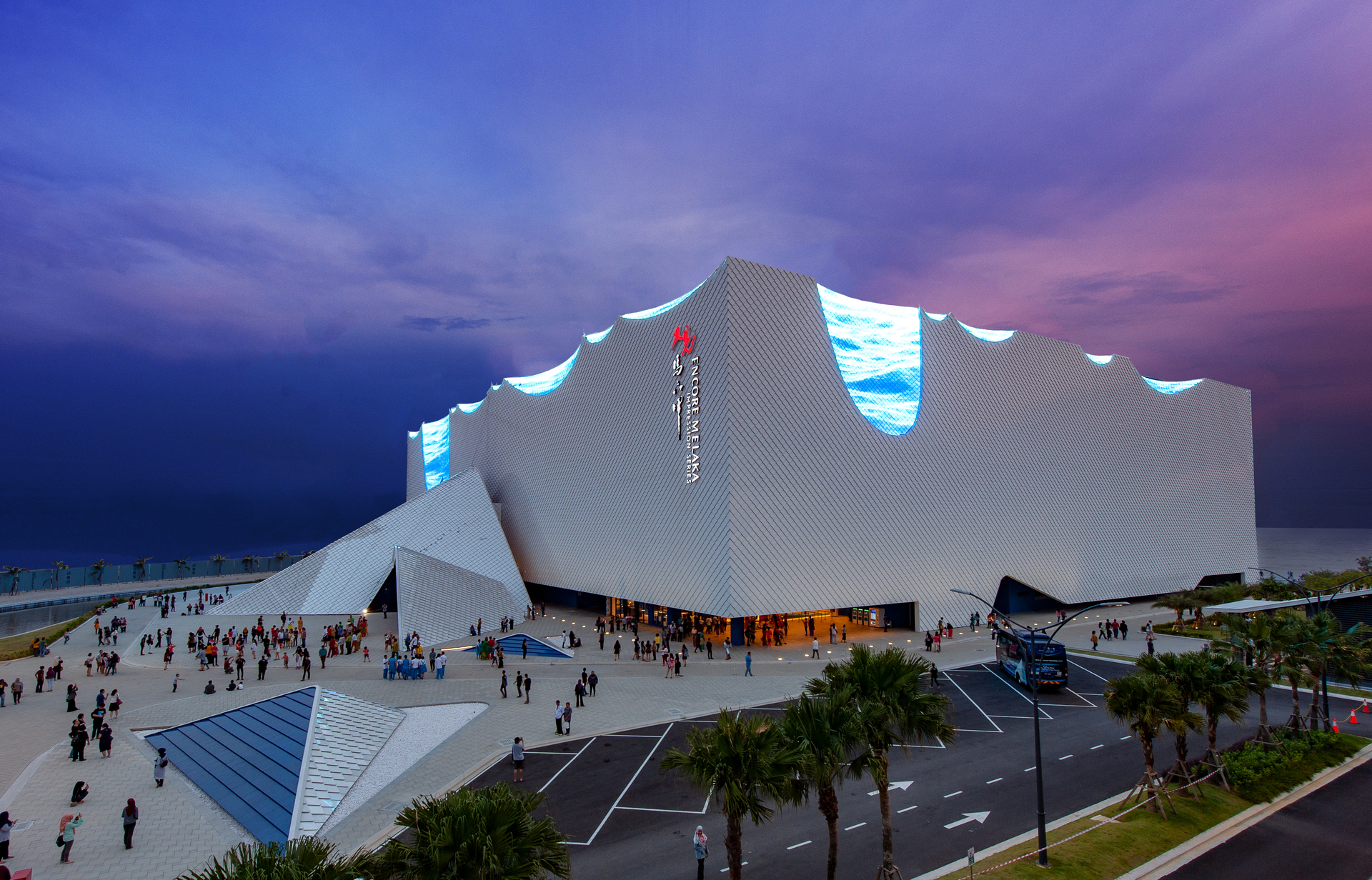 Magnificent view of the iconic Encore theatre near dusk

The standard ticket price to watch the show is MYR 128.00 for Malaysian. If you think this is costly, believe me, I used to think the same too. But now that I have experienced watching it, it's truly worth the price!
Melaka has always been known as the historical city and tourists visiting this city usually never miss to visit the many historical sites to have a glimpse of the olden days of Melaka. If you really would like be taken back to Melaka's glorious past centered to its people and their traditions, I highly recommend you to watch the
Encore Melaka
show.
There are photography sessions with the performers after the show finishes if you wish to take pictures with them. We definitely did not want to miss this, so below are some of the pictures we took.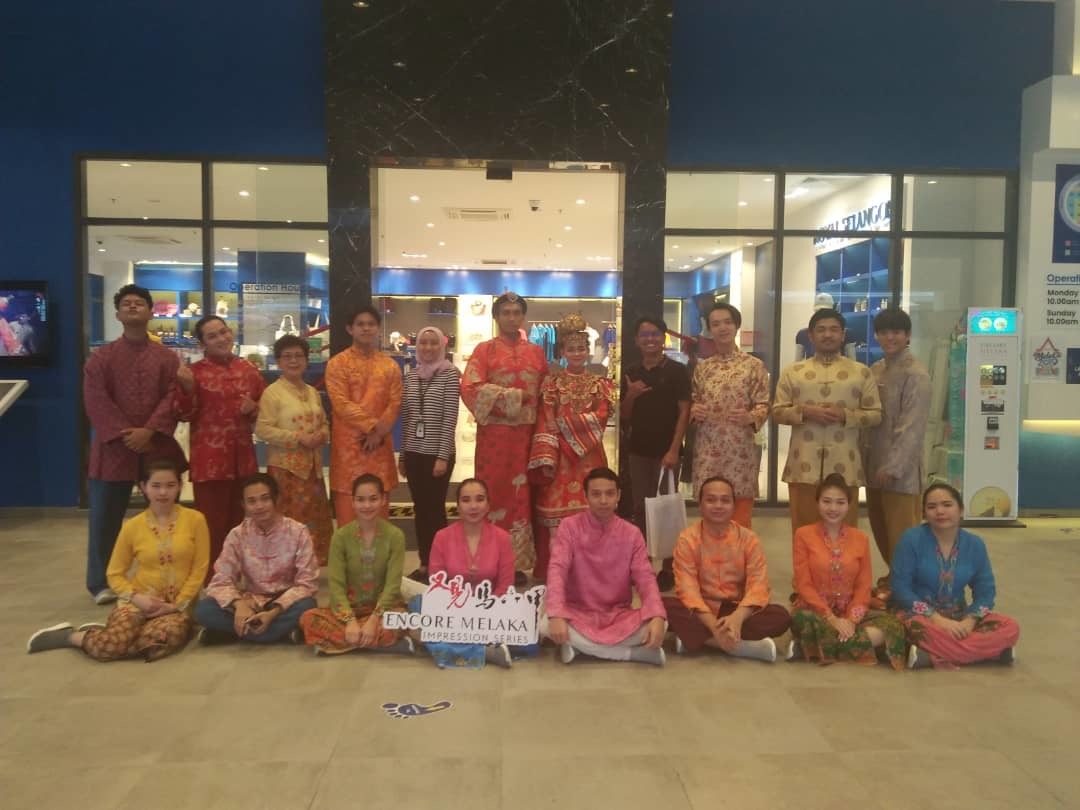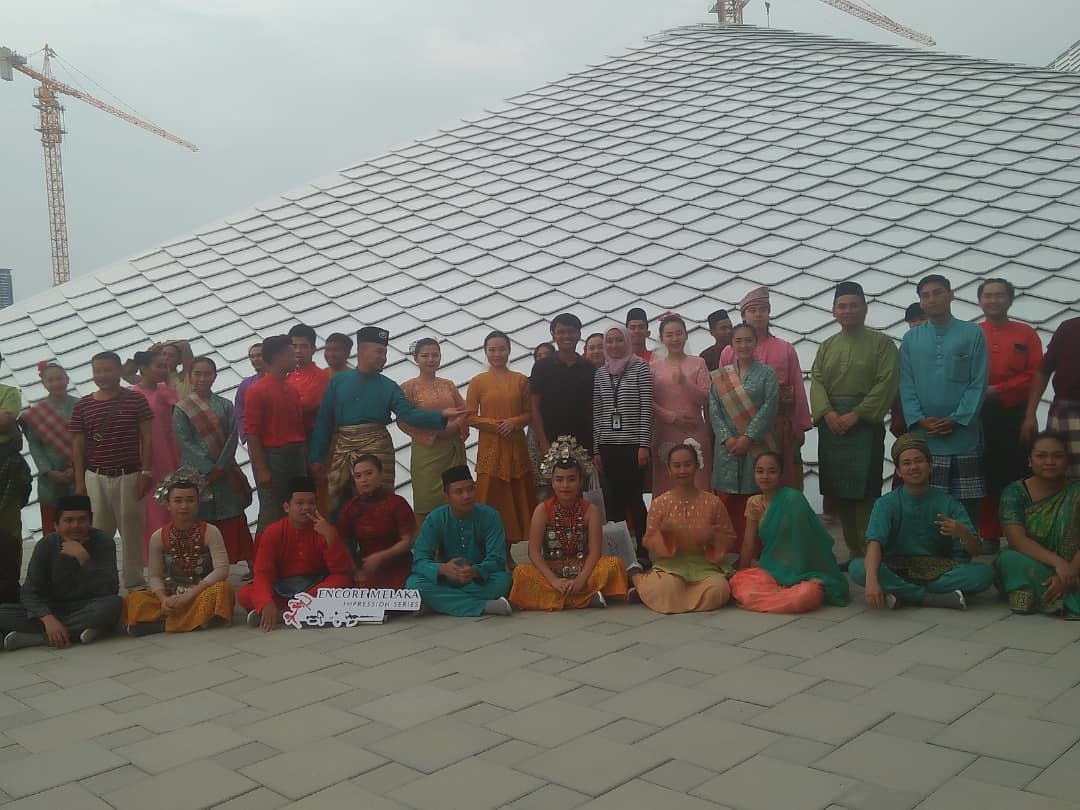 Have you watched the Encore Melaka show? Tell us your experience by sharing this post and tag
LetsGoHoliday
!
The article is written by Siti Nur Badriah Mohd Tahir. She was a Melaka born and bred and is now working in Melaka. To her, Melaka is home. Melaka is family.