Best Muslim Friendly Homestays in Penang Updated 2019
By Azham - Apr 03, 2019
(Last Updated Nov 30, 2019)
Long weekend is coming soon and you are planning a holiday trip to Penang? For a change, why don't you drive to Butterworth and board a ferry at Penang Ferry Terminal Butterworth? It will be so much fun for you and your family.
Upon arrival at Penang Island, drive up to one of Penang's Top halal authentic Chinese eateries; China Muslim Restaurant 3.0, Anna's Chinese Muslim Kitchen, Sin Bee Chew Restaurant, Kota Dine & Coffee, Kungfu Kitchen, Evergarden Halal Chinese Restaurant or Bee Hwa Cafe as recommended by the Have Halal Will Travel blog.
What is Penang without Nasi Kandar, cendol, rojak pasembur and mee goreng right? The beauty about Penang is, all these food are available round the clock and you just have to be adventurous and keep looking for a new hang out place either at Gurney Drive, Tanjung Bungah, Bangkok Lane or Lebuh Keng Kwee.
What's next in your To Do List? Check-in at your pre-booked homestay? There are plenty of muslim friendly type of accommodation throughout Penang to choose from. To start with, these are our recommendation.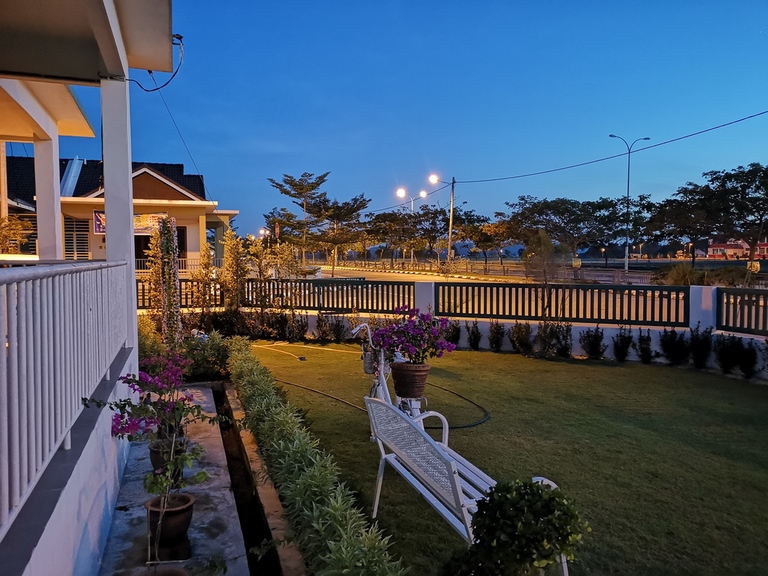 Although this homestay is not located in Penang Island but you should try it because it is so unique. If you fancy staying in an English cottage look alike type of accommodation without having to fly all the way to England, this homestay is highly recommended. The location is easily found using Google Map or Waze and driving to Penang Island will not take more than 40 minutes.
It has 3 bedrooms fitted with air-con and 2 bathrooms and this homestay can accommodate up to 5 guests. Browse through the photos and you'll easily fall in love with this homestay.
Address: No. 1 Lorong Pinggiran Bertam 4, Bertam Perdana 4, 13200 Kepala Batas, Penang
Price: From RM220 per night
Total Guests: 5 paxs

With 3 bedrooms and 1 bathroom, this homestay is good for 5 guests. Rooms are fitted with air-con and water heater in the bathroom. Cooking is allowed with basic cooking amenities readily available. Location wise, this high rise apartment is located near to Universiti Sains Malaysia (USM) with many food stalls, restaurants and tourist spots around it.
Address: 163 Tower B, Centrio Avenue, Jalan Permai, 11700 Gelugor, Penang
Price: From RM200 per night
Total Guests: 5 guests


If your children loves aeroplane and you prefer to stay near the airport for a quick and easy transfers to and from the airport, do consider this homestay which is located opposite Penang Airport and at the back of TH hotel. It has 3 bedrooms and 2 bathrooms. All rooms are fitted with air-con and it has free WIFI too. There are basic cooking utensils as well as a microwave, rice cooking and a freezer in the kitchen.
Address: 2D-6 Apartment Bayan Permai, Jalan Kg. Perlis, 11920 Bayan Lepas, Penang
Price: From RM200 per night
Total Guests: 7 paxs
Click here for promotion code!




Location is the best reason why you should stay here. The homestay is ideal if you wish to cover many places of interest while spending your holiday in Penang. It has 3 bedrooms and 2 bathrooms and since this is a condo typed of homestay, you too can enjoy the swimming pool facility that is available in this building. The kitchen has freezer, pots & pans and other basic amenities if you wish to cook.
Address: Blok B, Mutiara Heights, Jalan Hajjah Rehmah, Jelutong, 11600 Georgetown, Penang
Price: From RM250 per night
Total Guests: 6 paxs

Mahsuri Tias Homestay is located 30 minutes drive from Georgetown and 20 minutes drive from Penang Airport. This homestay can accommodate up to 6 guests with it's 2 bedrooms and 1 bathroom. All rooms are fitted with air-con and there are extra pillows and blanket provided. For entertainment, the flat screed LED TV has ASTRO Njoi channel and cooking is also allowed in the kitchen where basic cooking amenities are available.
Address: 1-1-6 Solok Mahsuri 3, 11950 Bayan Baru, Penang
Price: From RM160 per night
Total Guests: 6 paxs
Scrolled all the way through but still couldn't find that one homestay you want so badly to book?
No worries! We have many more unique accommodation options in Penang for you to browse. Just click on the below image to find out.