10 Extreme Sports in Kuala Lumpur, Selangor
Activities That Keep Your Adrenaline High
Another school holiday is coming! Wondering on things to do in Kuala Lumpur? Get your friends and families to try out these extreme sports activities from white water rafting to paragliding that are available in Kuala Lumpur now.

Following are the list of 10 extreme activities.


1.White Water Rafting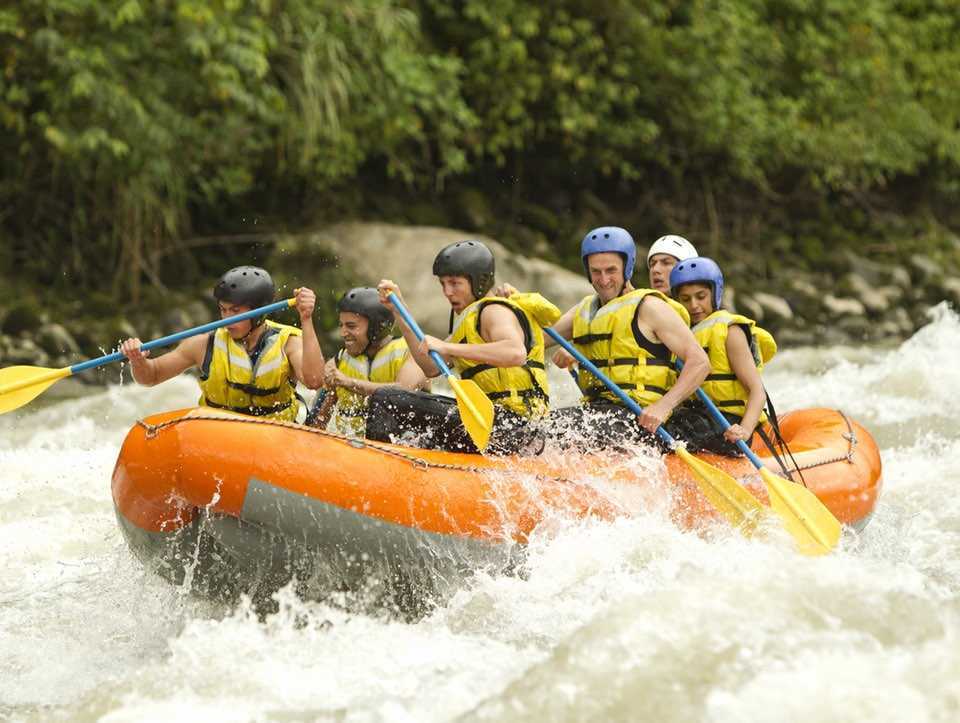 (Image via citydiscovery)

White water rafting is a water sport that is suitable for anyone whether you're single or couple, with friends or families. You will get to experience a face-paced rafting through the unpredictable water momentum when going downstream of the river. This river rafting will take about 1 to 2 hours depends on the water flow. Even if you can't swim, it not a big deal. They will provide life jackets and a professional guide to make sure you are going the right way.

You can find the location via google map



2. Flyboard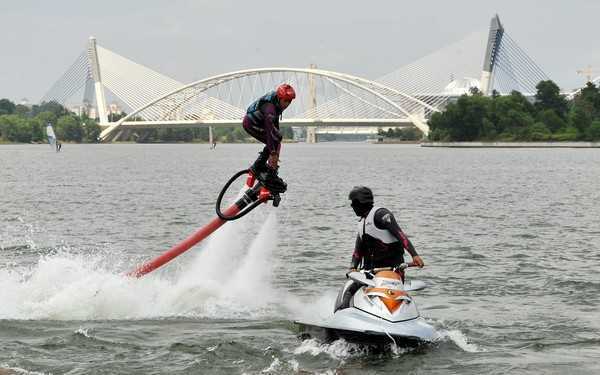 (Image via kosmo)

Here is another cool water sport that would literally fulfills your dream as a superman. It sort of like water jet pack where you can fly around with it. The flyboard rider will basically stand on a board which is connected by a long hose to a boat. It may seem easy to control but it not, based on those who have ride on it. You may fail at first few tries but after you get a hang of it, nothing would get in your way.

You can find the location via google map



3. Paragliding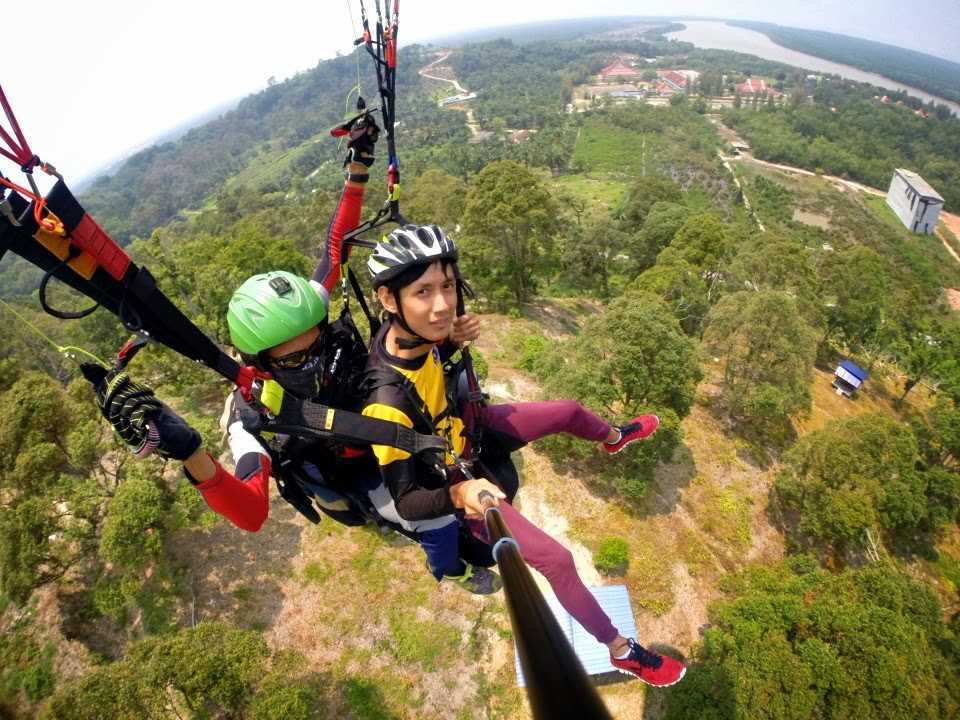 (Image via harubiruan)

Paragliding is quite a popular adventure sport around the world now. It a great chance for those who wants to enjoy a wonderful nature view while floating in the air. To go on a paraglide, you will have to set off from a high ground and from there, you can just leave everything to the instructor as he is the one who will be controlling the parachute. So please rest assure and enjoy your free fly alongside a professional paraglider.

You can find the location via google map.



4. Base jumping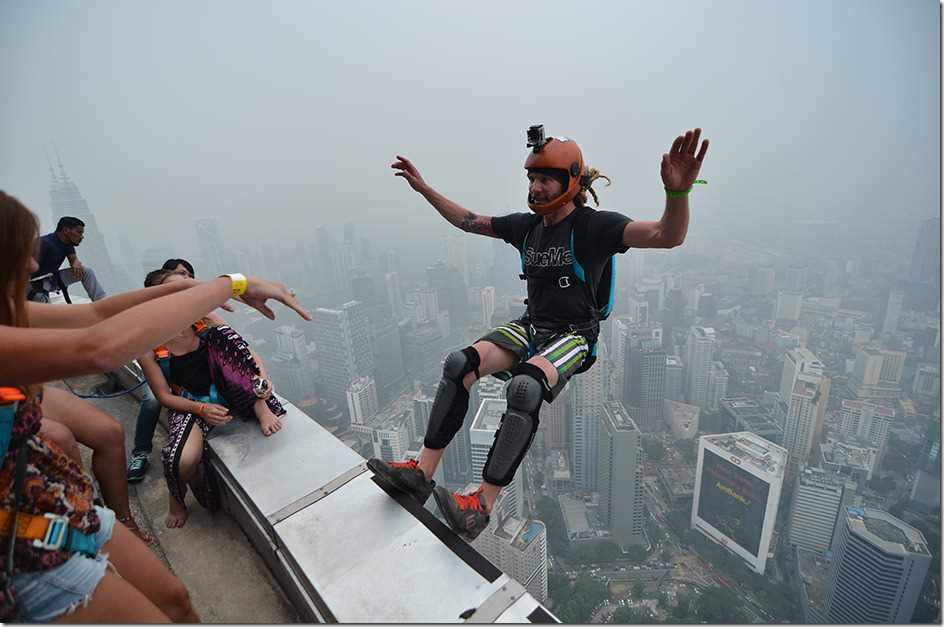 (Image via fotowarung)

Base jumping is another extreme sport that said to be more dangerous than skydiving because the time needed to open up the parachute is much shorter for base jumping. Instead of jumping off from high altitudes or sky, base jumper would jump from lower altitudes which is the buildings. So, it basically like suicide in an epic way. It may sound super exciting for adventure seeker but you may want to reconsider because your little heart may not be able to handle such extreme feelings.
P/s: Pray hard before you take off.

You can find this location via google map.



5. Skywarrior rain forest challenge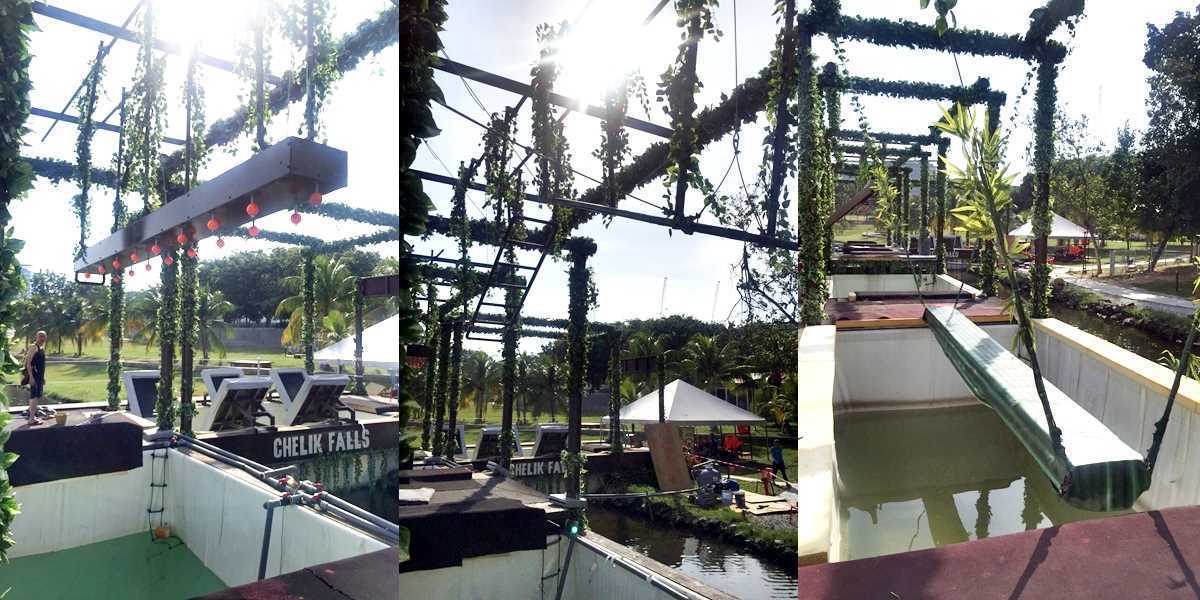 (Image via fatsoslim)

Skywarrior challenge is basically inspired from the 'American Ninja Warrior' game show where the contestant has to pass through few different obstacles as quick as possible. This rainforest challenge will really wear you out, if you ever reach the end. Besides, it is just situated inside the sky ride festival park where the hot air balloons are. Isn't this a good opportunity? You can go for both extreme activities at the same place.

You can find the location via google map.



6. Bubble sports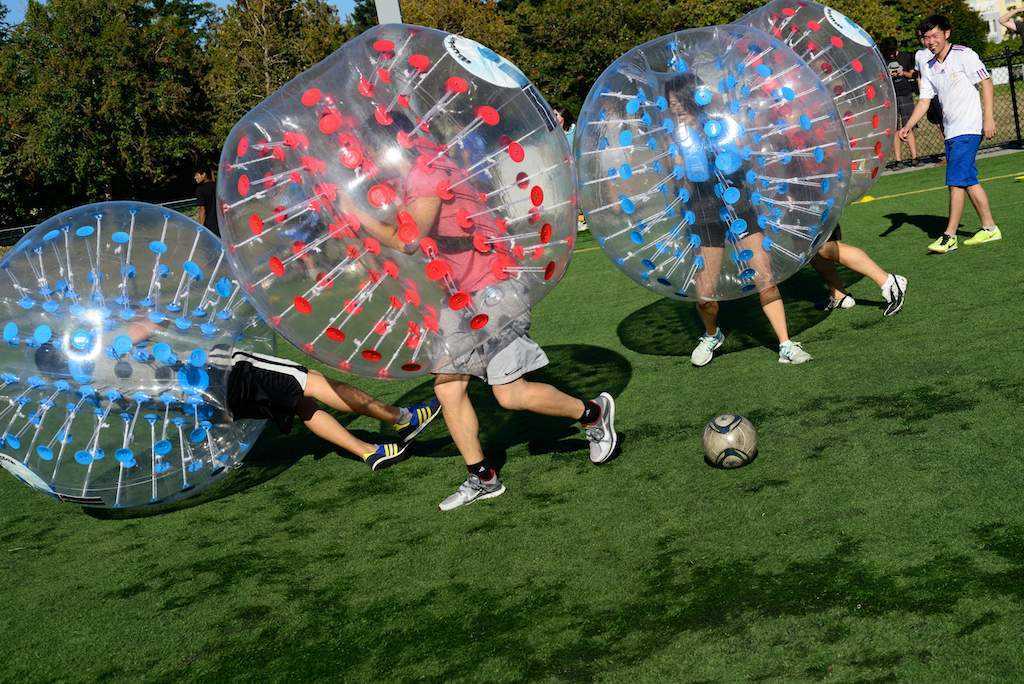 (Image via busbud)

This bubble sport is exactly like what you see in the picture. A huge bubble ball will be given to you. So just tuck yourself in that bubble tube and you are good to go. At the Bubble Sports in Kuala Lumpur, they have games like bubble soccer, bubble rugby and tower defense. When you play these games with your friends, believe me it may turns out rough and violence is unavoidable. You will know how extreme this bubble sport is when you put yourself in the bubble war

You can find the location via google map.



7. Shark diving

(Image via kuow)

There is no need to go far into the ocean when you can just experience swimming with sharks in Aquaria KLCC now. Basically, the divers will be given diving equipment and short briefing on the do's and don't before throwing yourself into the big aquarium. Please take note that this is only for certified scuba diver. Please take note that it only for certified scuba divers.

You can find this location via google map.



8. Hot air balloon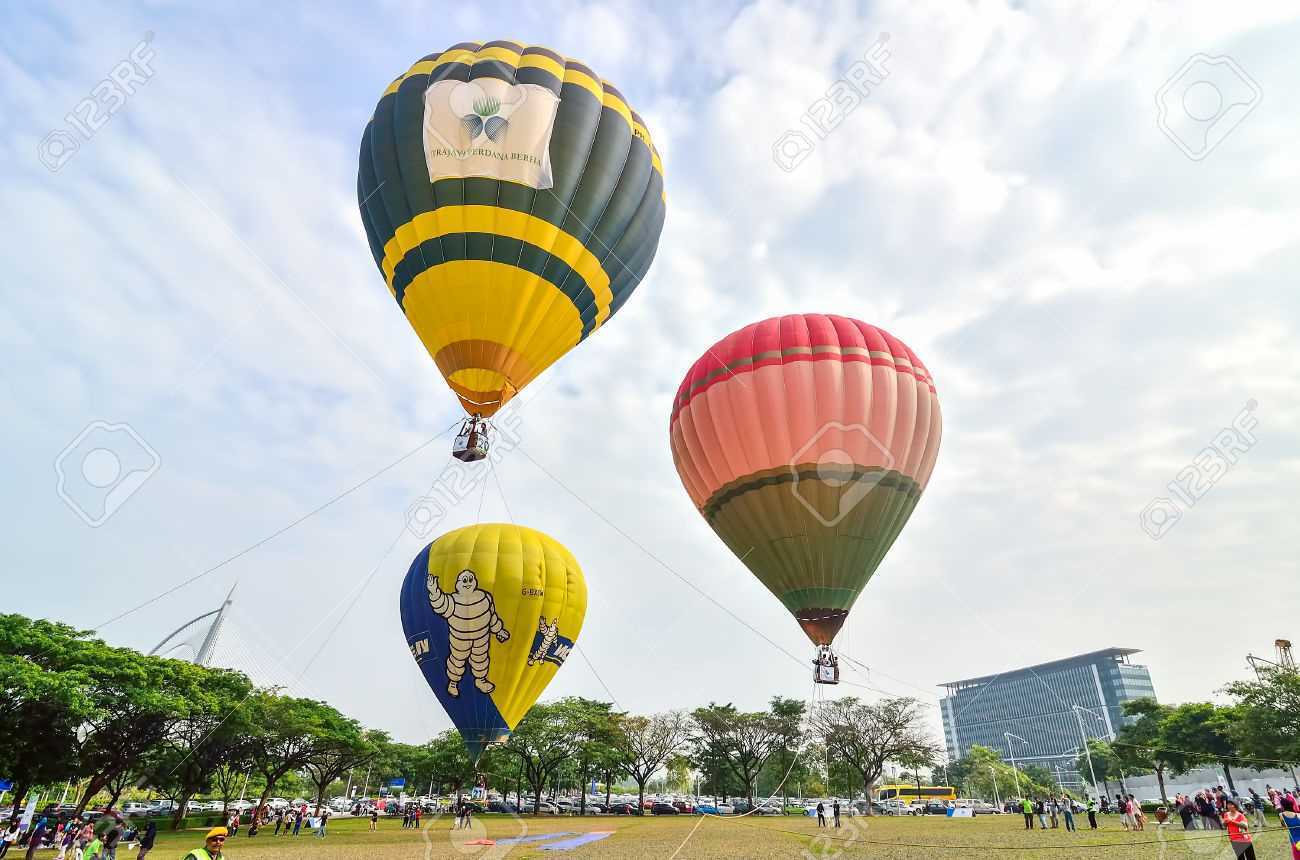 (Image via 123rf)

It not the most dangerous sports but neither it is a casual activity that you would go for without any courage, isn't it? You can find this activity available in the Sky rides Festival Park where hot air balloon events are frequently carried out. The air balloon usually goes up 120 meters from the ground. You can enjoy the breathtaking view up in the sky and just chill. So, if anyone asks whether you have tried any extreme sports activity, just say that you've tried riding in a big balloon and no safety ropes attached which is totally extreme.

You can find the location via google map.



9. Bungee jumping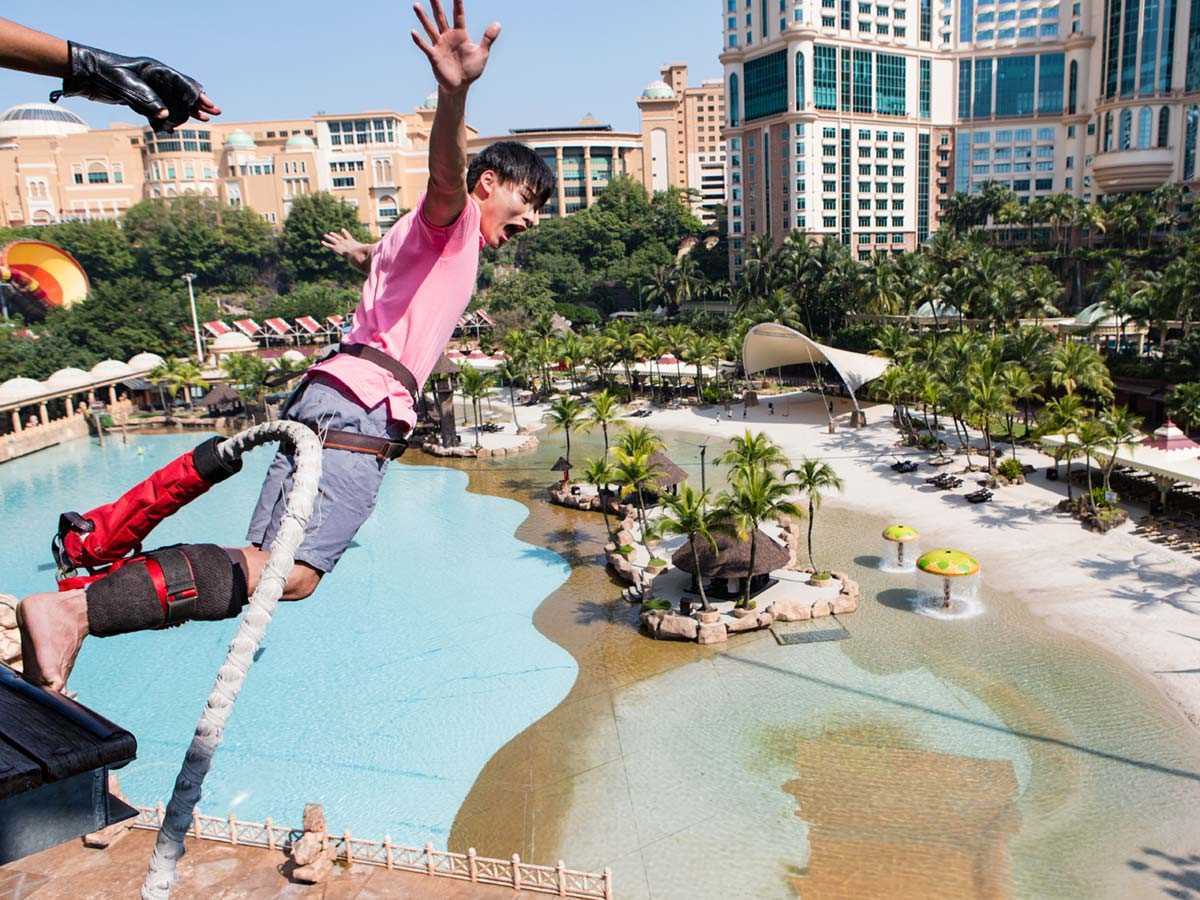 (Image via sunwaylagoon)

The previous activity may be too extreme for you so why not go for a bungie. Bungee jumping is very commonly heard nowadays but there are still people who have yet brave themselves to give this bungee jump a shot. For bungie lover, I believe you must have heard of the extreme park which is situated right in the middle of Sunway Lagoon theme park. If you have not tried, believe me it easy. All you got to do is imagine yourself jumping off from a 9-storey building.

You can find the location via google map.



10. Rock climbing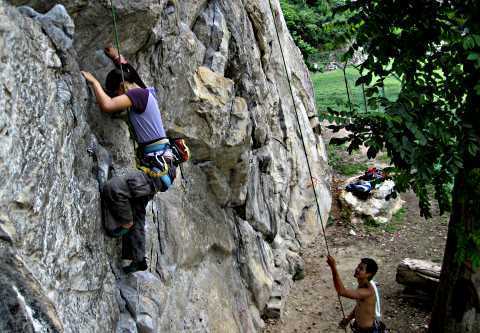 (Image via flickr)

It not the same as wall climbing since the surface is more uneven and you have to find your way up the rock. It is not easy because you need to maintain a strong mentality and stamina when you are 50 ft away from the ground. You can rest assure as they take serious safety measures of the climbers and a rock climbing gear will definitely be provided. So it a great chance to overcome your fear for height and push yourself to the limits. Who knows you could be the next 'spiderman'.

You can find the location via google map.


Now, you don't have to fly miles away just to experience such extreme sports when you can find it here in Malaysia. What are you waiting for? Buckled up and plan for your new adventure! If you ever wonder where to stay while planning a trip to KL or Selangor, feel free to visit LetsGoHoliday.my.