Highest Waze User in ASEAN - Malaysian
Real-time Navigation Apps
Who have not heard of Waze in this century? I believe you yourself is one of the users, or perhaps your brother, sister or even your neighbour are Waze users. In this decade, more and more Malaysian are using Waze when they are driving on road. This is not that surprising as we are one of the countries where citizens spend more time stuck at traffic than having lunch. The Star has reported that our country has the highest number of Waze users in Asia and we even made it up to top 5 among the countries globally.

Some cool facts:
As you can expect, the most concentrated users fall on regions such as Kuala Lumpur, Penang and Johor Bahru.
According to Google, Kuala Lumpur comes at first place with 2.5 million active users. This number is definitely a lot since it solely comes from part of our country. The ranking then followed by Jakarta and Manila with 2 million and 1.5 million users respectively.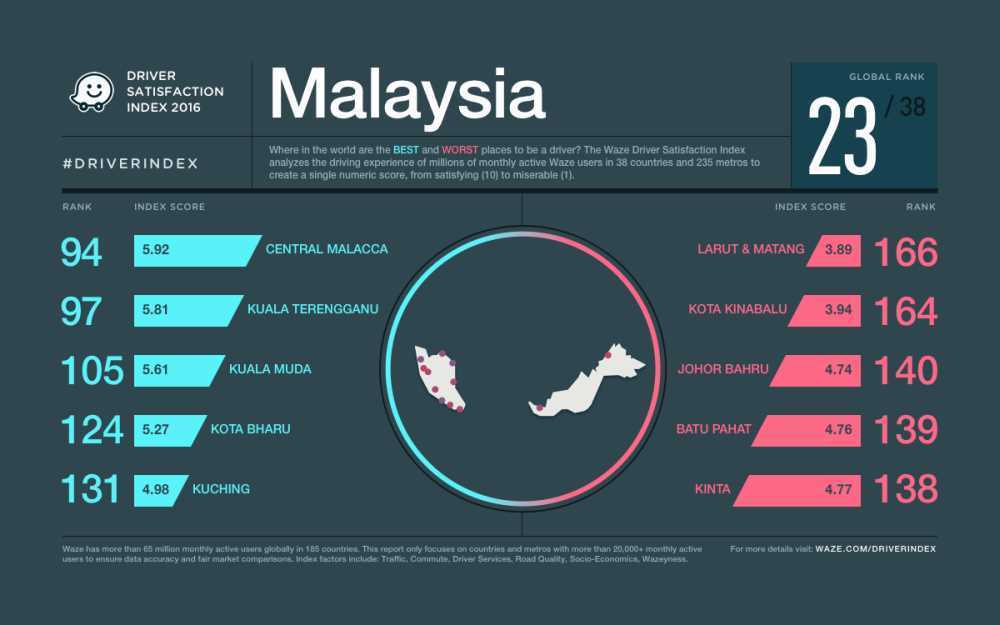 (Driver Satisfaction Index – image via carsifu)
Waze also listed Malaysia as the best place to drive among ASEAN countries via the annual Driver Satisfaction Index that comprised of traffic density, road and infrastructure quality, road safety, availability of driver services, socio-economics and "Wazeyness" (happiness of Waze users).
Edward Ling Sieak Meeng, Sales Manager of Waze Malaysia said that, Malaysian's overall experience on road not really satisfied generally but we are right in the middle of the ranking.
We even ranked 23rd out of 38 countries globally ahead of Singapore (32th), Indonesia (34th) and the Philippines (37th).
Central Melaka is deemed as the best city to drive in Malaysia out of the 235 cities surveyed.
Waze has over 250 partners worldwide and hope to secure another 10 in Asia in coming couple of months, said Waze's global strategic partnership manager, Mona Weng. They are actively investing and interested in learning about partnerships in Malaysia.
Good News:
Since the adoption rate of this community-based traffic and navigation application is high, they have an ongoing Connected Citizens programme which is looking for government partners in the country to acquire and share publicly available data and help users spend less time on road.
Waze currently working with Selangor state government on the complaints from motorist about the potholes and channelled it to local councils for necessary action.
According to Mona Weng, they are seeking for more usable data such as planned road closure due to event or construction and real-time accidents report.
P/s: Information above credits to PaulTan article.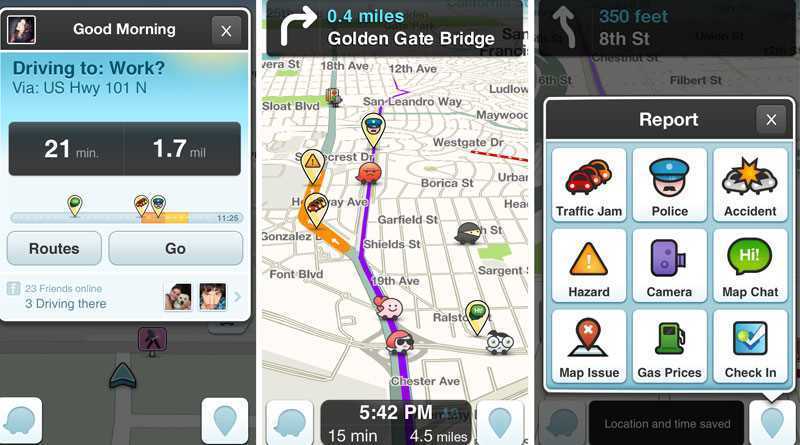 (Image via drivenow)

Just so you know, Waze has an active community of map editors who are constantly updating the map route whenever there's any changes happened in their neighbourhood. So, you don't have to worry about ending up at some dead road or mislead to wrong destination.Also, you could connect to your friends on Facebook and keep track of each other's arrival time for a meet up. This is rather convenient since you'll know if your friends are telling the truth when they said they're on their way to the meet up place but actually still laze around at home.

Besides, Waze gives more detailed information than Google Map such as traffic crashes, notify on police presence, location of speed trap by crowd-sourcing and nearby spot to grab a coffee or burger. Not to forget, the adorable icon of users on the map is an extra point. The icon would change based on the level of your interaction with the application.

If you have not tried using Waze, you may want to consider having one installed on your phone no matter you're a frequent road-user or not. It would come in handy sooner or later. I mean what is there not to like about this free navigation application given those helpful functions that you can't ask for more.